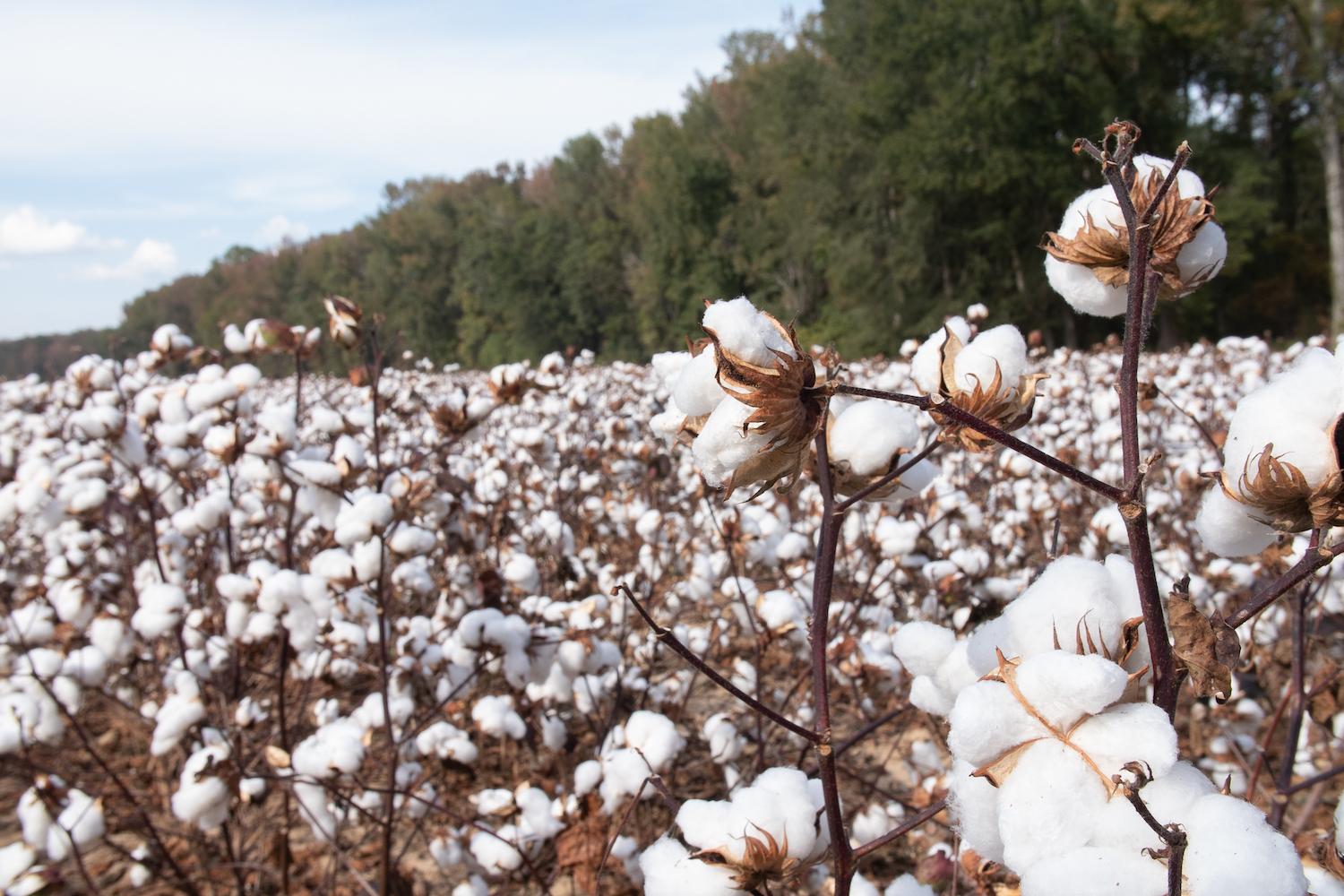 A regenerative cotton farm in Alabama. (Image: Indigo Ag)
Cotton is ubiquitous, found throughout our daily lives. We find cotton in clothing, bedding, cloth napkins, towels and countless other textiles. It has been used for millennia and is a durable, natural textile material. 
Today, a tightly woven collaboration among farmers, scientists, and businesses are applying scientific rigor and data quantification to measure the positive outcomes attained when farmers utilize regenerative practices to grow cotton. Regenerative farming practices employs strategies, such as using cover crops and reducing tillage, that help to restore soil health and biodiversity while leveraging nature to reduce or eliminate the need for chemical additives.
A virtuous loop for companies and consumers
With science showing the potential environmental benefits gained when farmers use regenerative agriculture practices, companies are starting to source more of their materials from farmers who employ these practices as a way to help lessen their environmental footprint. In the textile and apparel space, a good  example is VF Corporation (VF), one of the world's largest apparel, footwear and accessories companies that includes iconic brands such as The North Face, Timberland, Vans and Smartwool. 
The company began developing a framework and strategy to achieve greater progress on environmental stewardship and social responsibility back in 2016. Three years later, it was among the first in its sector to set an approved science-based target to reduce Scope 1, 2 and 3 greenhouse gas emissions by 2030.
"Our purpose statement is focused on the betterment of people and the planet," said Jeannie Renne-Malone, vice president of global sustainability at VF. "And we are committed to designing products that align with and advance our purpose."
When mapping its environmental footprint, similar to the textile industry as a whole, VF found that a vast majority of its environmental impacts, about 70 percent, occur during the extraction, processing and production of raw materials.
In an effort to decrease that impact, together with The North Face, VF initiated a partnership with Indigo Ag, a science and technology company for sustainable agriculture, through the Carbon by Indigo program. The success of that initial relationship led additional VF portfolio brands to participate in Indigo Ag's Market+ Source program.
"The use of regenerative farming practices has the potential to improve soil health, and allow for more carbon capture in the ground rather than emitted into the atmosphere, and overall provide net beneficial impacts for the environment, farmers, and local communities" Renne-Malone said.
Cotton, rubber, wool and leather are among VF's topthe raw materials that the company VF seeks to make more sustainable throughout its supply chain. The Market+ Source program helps to make this vision attainable for cotton, she said. 
"What's so compelling about regenerative agriculture is it gets back to a more traditional and natural way of growing crops and managing the land," Renne-Malone said. "When cotton is grown using regenerative agriculture practices, such as those used by the farmers Indigo Ag works with, we're seeing improvements in water cycles and soil health. Additionally, we're aiming to help  improve economic diversity for farmers and their communities through crop diversity and reduced use of fertilizers, herbicides and pesticides."
Regenerative agriculture begins with the farmer
Fifth-generation Oklahoma farmer Eric Kahle, a partner with The North Face and Indigo Ag for cotton production, embodies Renne-Malone's enthusiasm.
"Our family was seeing erosion issues, weed problems, and expensive fertilizer bills," Kahle said. "We are attempting to solve all of those problems and more, as we learn about how important biology is in running not just our crops, but the entire earth."
Getting in sync with nature yields tangible benefits. "Instead of us having to buy something, the land already gives it to us," Kahle said. "Through working with the processes natural to the earth, we save money, make a profit and feel good about doing it."
One cost-saver Kahle shared is reduced tillage through the use of cover crops. Tillage equates to expensive fuel use and soil damage. Cover crops reduce the need for tilling the land and also provide nutrients to the soil with less or no added fertilizer. "It's like not having to take a vitamin because you're eating full foods," Kahle explained.
Cover crops also bring the benefit of better water management, an important point of progress for cotton production, which traditionally has a high water footprint. The rains are often plentiful at Kahle's farm in Oklahoma — sometimes too plentiful. They recently reported  six inches of rain in a single week.
"We can't always absorb that into the soil," Kahle said. "We might get an inch … that's actually usable and doesn't run off. So, the way cover crops help the soil trap that moisture and retain it for long-term use is incredible."
That not only saves money with reduced irrigation, but it also fights erosion from water inundation. And with the big winds of Oklahoma, the cover crops provide a buffer for both the soil and the cotton plants.
Like the environment, farmers face hazards from chemical introductions to soil and crops — another reason Kahle is highly focused on soil biology, a strength of Indigo Ag's scientific rigor.
"We will be able to produce better crops, more affordably and with higher quality, which is healthier for those that consume it, those that use it, those that wear it — and the cattle, deer, birds, all of them," Kahle said. "Everything in our environment will become healthier if we first heal the soil."
The value of "boots on the ground"
Indigo Ag's personnel work directly with agribusinesses and farmers — from data scientists quantifying progress to agronomists like P.R. Morris, who advises on how to implement regenerative practices.
"Soil is its own ecosystem," Morris said. To best promote the health of that ecosystem, Indigo Ag advises following a set of five principles, including armoring the soil, minimizing its disturbance and integrating livestock. Morris helps farmers start small and ramp up such beneficial practices — a pragmatic approach that helps farmers manage the economic risk of trying methods that differ from long-standing conventional farming.
One of Morris' favorite regenerative practices to start with is cover crops. "I absolutely love cover crops," he said, referring to the practice of planting quick-growing, small crops between or during the big cash crop cycles. Along with the erosion prevention and water management Kahle mentioned, cover crops help suppress weeds, resulting in reduced herbicide use and costs. They also protect the soil with living roots in the ground and shade from UV damage.
"The easiest thing to do is just a single species — wheat, because it's cheap, or cereal rye," Morris said. As a next step after a grain or grass cover crop, he often advises the addition of legumes.
"Legumes pull nitrogen out of the air and fix it in the ground," Morris said, a benefit to reducing fertilizer use and cost.
Each group of cover crops has its own unique, biological superpower. Taproot crops, like radishes, are good at breaking up compacted soil, while grasses and legumes are perfect for summer grazing. All of these soil boosters give cotton roots and young plants a stronger start, with ongoing protection during the growing cycle, which leads to higher-quality cotton. And every cover crop helps bring more carbon into the soil, so adding and maintaining cover crops can also help farmers qualify to earn carbon credits through Indigo Ag.
Cotton's broad reach
The North Face brand's purchase of registry-issued carbon credits was a first step for VF into the relatively new frontier of quantifying the environmental impact of regenerative cotton. Today, the brand offers consumers apparel made from cotton grown using regenerative agriculture practices from its early partnership with Indigo's Market+ Source program. At the same time, Timberland and Vans are similarly working on how to incorporate this fiber into their product lines in the future. Renne-Malone captured what VF's experience means.
"We know we cannot meet our sustainability goals alone," she said. "I hope that other brands that source cotton — in our sector and beyond — consider the benefits that investments in regenerative agriculture practices can garner and help scale these practices to bring even greater benefits to farmers and our communities around the world."
Strengthening the roots of a plant gives it resilience. Expanding regenerative agriculture practices through this type of partnership promises the same benefits for people and the planet, starting from the ground up.
Learn more from Indigo Ag about the progress being made to make agriculture more sustainable for people and the planet.
This article series is sponsored by Indigo Ag and produced by the TriplePundit editorial team.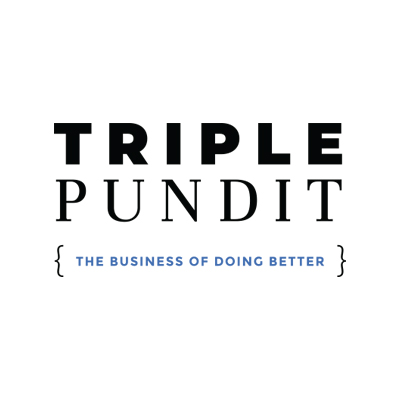 TriplePundit editors offer news and insights on sustainable business.