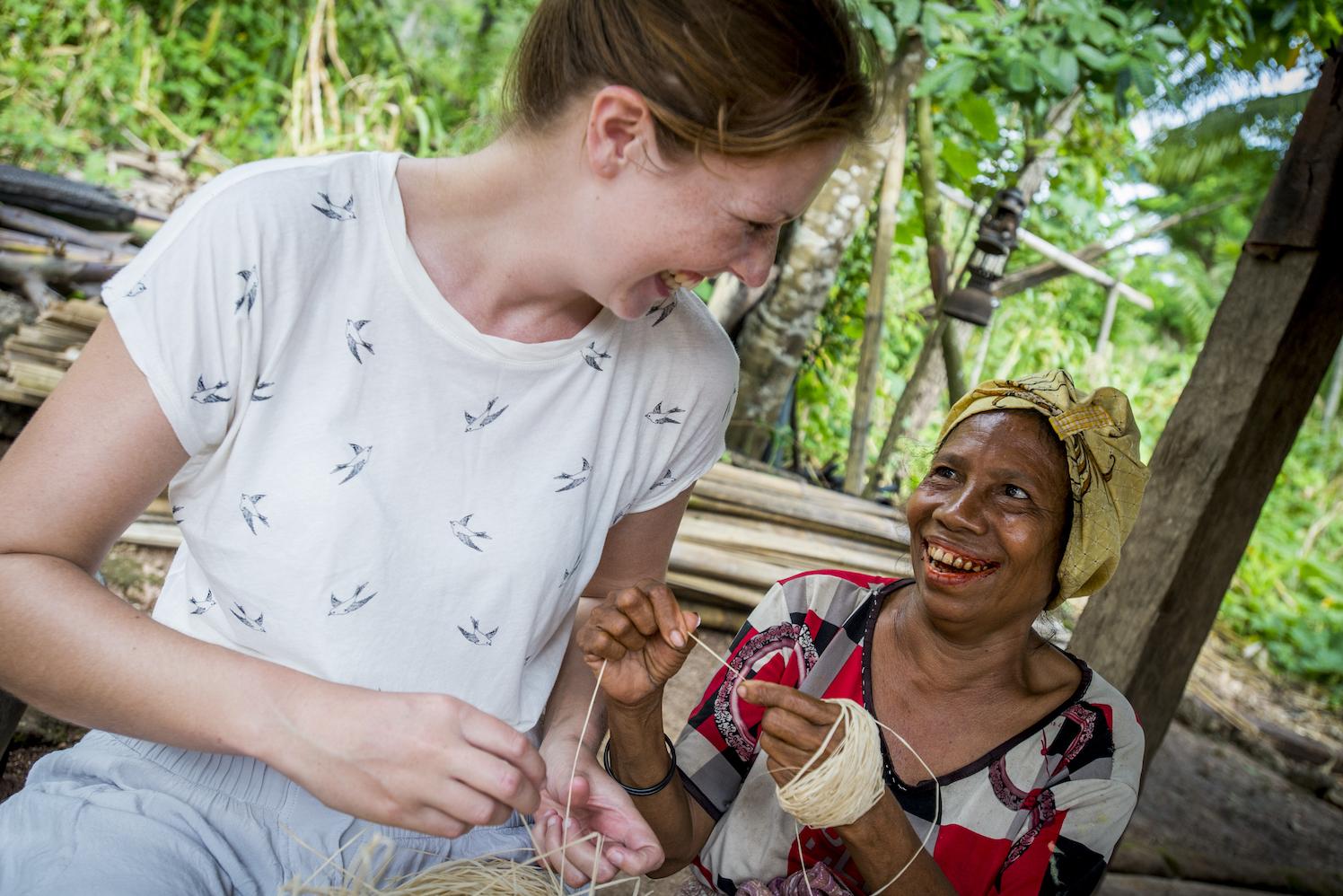 Intrepid Travel partners with local local people, organizations and businesses to offer thousands of small-group adventures across every continent that benefit destination communities. (Image: David Kirkland)
Some of the world's most popular travel destinations hang in a delicate balance. People visit to soak in beautiful nature and rich cultures. The local economies evolve to meet that demand, eventually relying on it. The industry built around travel attracts more visitors, and the cycle continues. 
At the same time, travel threatens the destinations people flock to see. It can strain local environments and resources, cause biodiversity and culture loss, and create unfair income distribution that leaves locals unable to afford to live where they work. Many destination communities are also highly vulnerable to climate change impacts, yet the travel and tourism industry is estimated to produce 8 to 11 percent of global greenhouse gas emissions, according to estimates from the World Travel and Tourism Council, an industry group representing travel businesses. 
This doesn't mean everyone should stay home. With a little effort, our vacations can support healthy ecosystems and improve the lives of those in the communities we visit.
Creating a more responsible post-pandemic travel sector
The travel and tourism industry is still recovering from the pandemic. Nevertheless, it was responsible for 7.6 percent of global gross domestic product and 22 million new jobs last year, according to the World Travel and Tourism Council. In 2019, the industry accounted for over 10 percent of global GDP and held over 10 percent of the world's jobs. 
The sector is on track to return to 80 to 95 percent of pre-pandemic levels by the end of this year, according to estimates from the United Nations World Tourism Organization. To sustain the industry long-term, this recovery must be paired with increased inclusivity, sustainability and resiliency, Zurab Pololikashvili, the organization's secretary-general, wrote in the analysis. 
He's not the only one calling for change. A growing number of travelers are taking action. In a 2022 survey by the booking platform Kind Traveler, 98 percent of respondents said it's important that their dollars have a positive impact on the places they visit. 
Enter responsible travel: trips that have a net-positive impact on the destination's environment, economy, and the people who live there. Supporting communities is at the core of this idea, and it has the potential to improve quality of life over the long term. 
"You cannot have responsible travel unless you're taking the needs, wants, desires, challenges, interests of a community — of a destination — into the equation," said Wesley Espinosa,  executive director of the Center for Responsible Travel, a nonprofit that works to improve the positive impact of tourism. "I get the argument all the time, 'Well, there's a lot of places that people visit that don't have communities.' That's not true. Everywhere has a community behind it, whether it's 10 scientists at a random geolocation in Antarctica or a big city somewhere in the world."
What does it mean to travel responsibly? 
Responsible travel starts with research, Espinosa said. Just as travelers scavenge blogs and booking platforms to find the best airfare rates, restaurants and Instagrammable locations, traveling responsibly should take into account the entire journey — from weighing flight options, to finding locally-owned lodging, to learning about the people who live there. Communicating with nonprofits is one way to learn how communities want and need support, he suggested. 
"When you do that research ahead of time, you understand what that nonprofit or local community development landscape is," Espinosa said. "And you start to understand the issues. Not [the issues] that you see in major headlines, but you start to understand the issues that are important to local people. And when you understand the issues important to local people, you're more likely to engage in a better way, find local businesses, spread your dollar around, and travel in a way that's truly beneficial to the community." 
However, all of the responsibility does not fall on the traveler. It's up to the whole industry to make the change. 
How tour operators can be part of the change for responsible travel
One company leading the industry shift is Intrepid Travel. The certified B Corporation has led small group trips for 34 years and offers thousands of adventures that touch every continent. To ensure its trips have a positive impact, the company works with local people, organizations and businesses to help them solve their problems instead of forcing its own plans onto the community, Matt Berna, Intrepid's president and managing director for the Americas, told TriplePundit.
For this business model to work, projects have to be community-driven from the start. "We're looking at the local community taking control. They're accountable, and they're engaged with this," Berna said. "[Community-based tourism is] not meant to be something that's just going to be developed for a tour operator or some other travelers coming through. It has to be something lasting and comprehensive." 
As a result, these community-led projects vary widely. One community could decide to host tourists for home-cooked meals and cooking classes, while another chooses to build overnight accommodations so visitors stay longer than a one-day trip. Intrepid might help write grants or sponsor architects to draw up plans for things like remodeling existing homes to include guest accommodations for travelers, but the programs are built and managed locally, Berna said. Community members decide everything from the budget to what's built to how it will be staffed. Once the project is completed, the company includes it in its trips.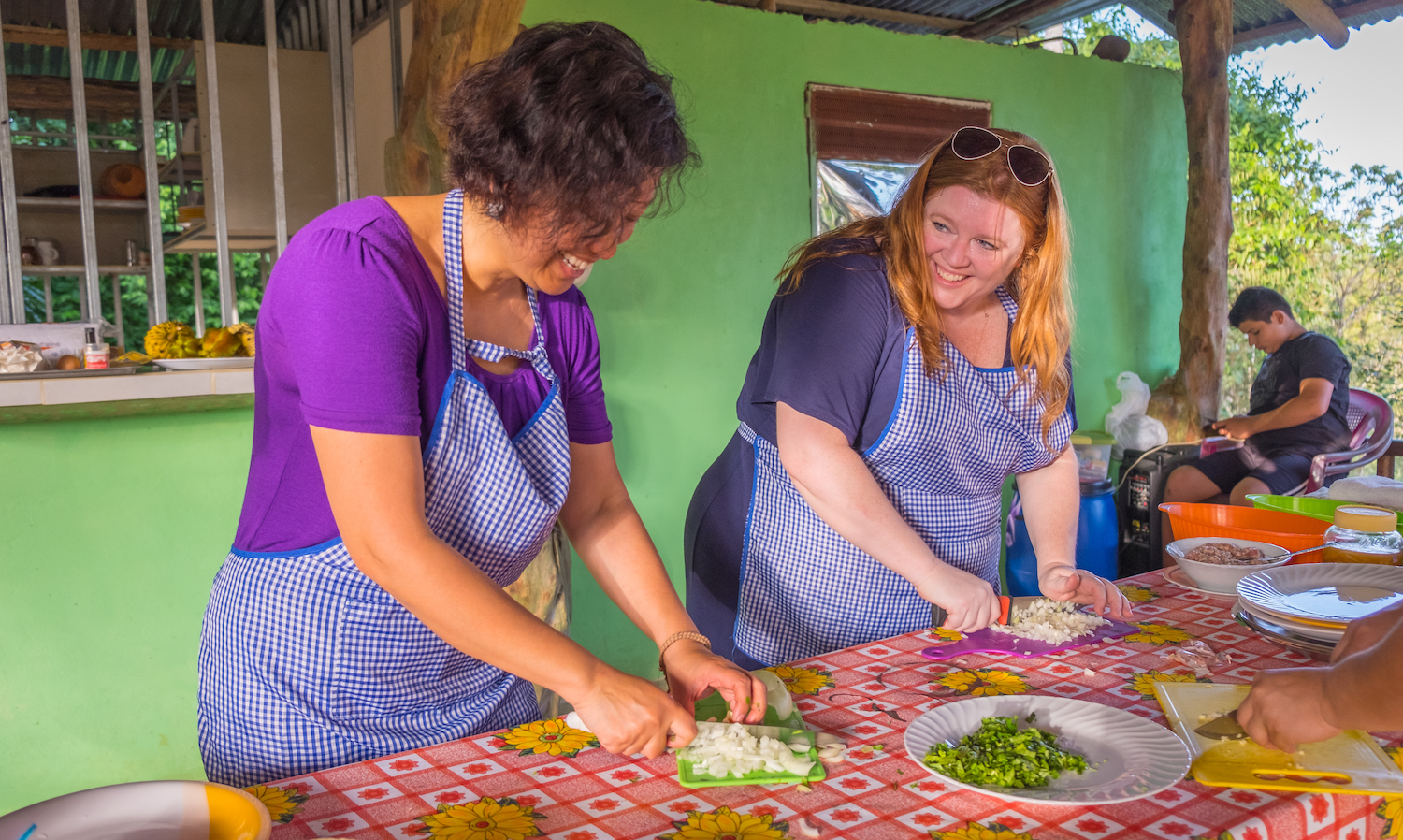 One of Intrepid's trips, for example, includes a stop at a village near a wildlife park, where travelers join expert rangers on a trek through a Ugandan forest to see mountain gorillas. Before Intrepid got involved, the villagers weren't aware of the importance of protecting the animals and the benefits tourism could bring to their community, Berna said. Now, they've built campsites, hiking and biking trails, and other accommodations for travelers. The new development brings economic benefits for the community, and attracts more travelers whose park entrance fees support the training park rangers receive to protect the gorillas from poachers.
Once a project is completed, the company includes it in its trips and checks in regularly to find out what's working and what can be improved. In a 2021 survey of 17 business owners in Peru and Morocco who work with Intrepid, all respondents agreed that the company's work contributes to their overall success and supports the preservation of their cultural heritage. 
Economic distribution — by way of traveling in small groups and supporting small businesses — is one of the greatest benefits the company can provide for communities, Berna said. 
"Sixty percent, on average, of the funds a customer pays for a trip goes directly to the place that they visit," Berna said. "What that means is we are staying in family-owned hotels and visiting local restaurants, and the economic benefit of us visiting those places stays within that family, within that community."  
Despite the economic and cultural gains, it can be difficult for communities to commit to long-term projects they may have to wait months to benefit from, Berna said. 
"It's hard sometimes for these communities to think about putting the money and time in now, the investment in now, to possibly see a traveler 12 months, 18 months into the future. That's really difficult," he said. "It takes us time to build a trip, get it to market, promote it, and get the customers to travel six to eight months later. It's a long cycle." 
Even when done responsibly, increased travel can still have negative effects. Most of the business owners who responded to Intrepid's 2021 survey said their partnership with the company only had positive impacts, but several mentioned negative impacts like people taking their photos without asking for permission and local youth working in the tourism industry instead of continuing their education. 
Avoiding travel isn't the answer
As more people explore responsible travel, it's important not to shame each other for being imperfect travelers, Espinosa said. It can be a challenge to navigate the options and see through things like greenwashing. 
"It's impossible to make 100 percent of the right decisions 100 percent of the time," he said. "[Tourism] is a massive, massive industry, so it's not ever going to be perfect. But we can take little actions along the way."
Rethinking one of the world's largest industries and moving toward more responsible travel may seem like a daunting task, but it comes with bountiful rewards. 
"I tell people all the time that we're the Center for Responsible Travel, we're not the Center for Responsible 'Not Travel'," Espinosa said. "I say that because travel inherently shapes us and provides positive experiences, educational opportunities, exchange of ideas, information, exposure to new cultures, new ways of life. And ultimately, we believe in that good part of it."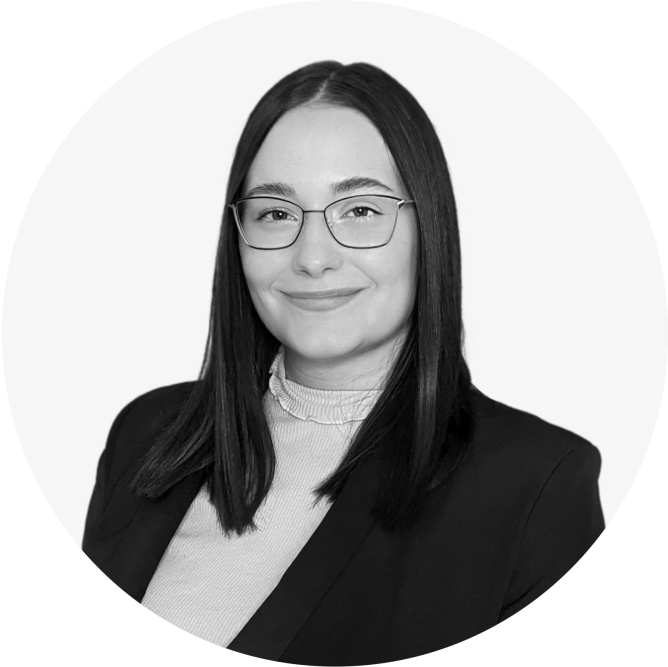 Taylor's work spans print, podcasts, photography and radio. She brings her passion for covering social and environmental issues through the lens of solutions journalism to her work as editorial assistant.