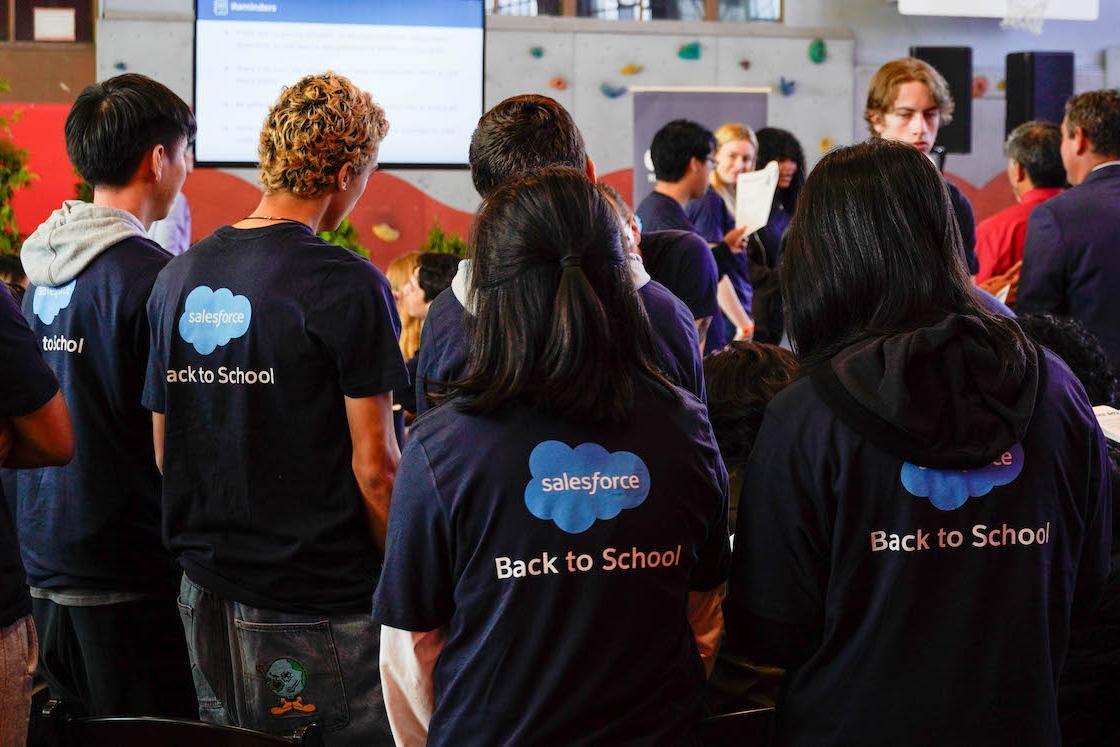 Students participate in hands-on artificial intelligence workshops during Salesforce's "Back to School" event at George Washington High School in San Francisco, ahead of the company's annual Dreamforce conference. (Image: Taylor Haelterman)
Students in middle school today will build the technological breakthroughs that rival the science fiction of tomorrow. That future is built on the foundation of knowledge they gain now, yet many schools don't have the funding for updated STEM (science, technology, engineering and math) programs. 
That's where the San Francisco-based software giant Salesforce is stepping in. At a press event ahead of its annual Dreamforce conference in San Francisco last week, the company announced over $20 million in grants to support student success as new technology, like artificial intelligence, rapidly changes the future prospect of their careers. 
"As a tech company, we really start from a place of believing business can only really be successful if our communities are strong and our schools are strong," Becky Ferguson, senior vice president of philanthropy at Salesforce and CEO of the Salesforce Foundation, told TriplePundit. "We know our future workforce is these young people today. How do we invest in and support their relevant learning and growth, so that they are set up for success?" 
School districts in San Francisco, Oakland, New York City, Chicago and Indianapolis received a total of $14 million. Workforce development and education nonprofits in the United States, France, Germany and the United Kingdom received a combined $6.8 million.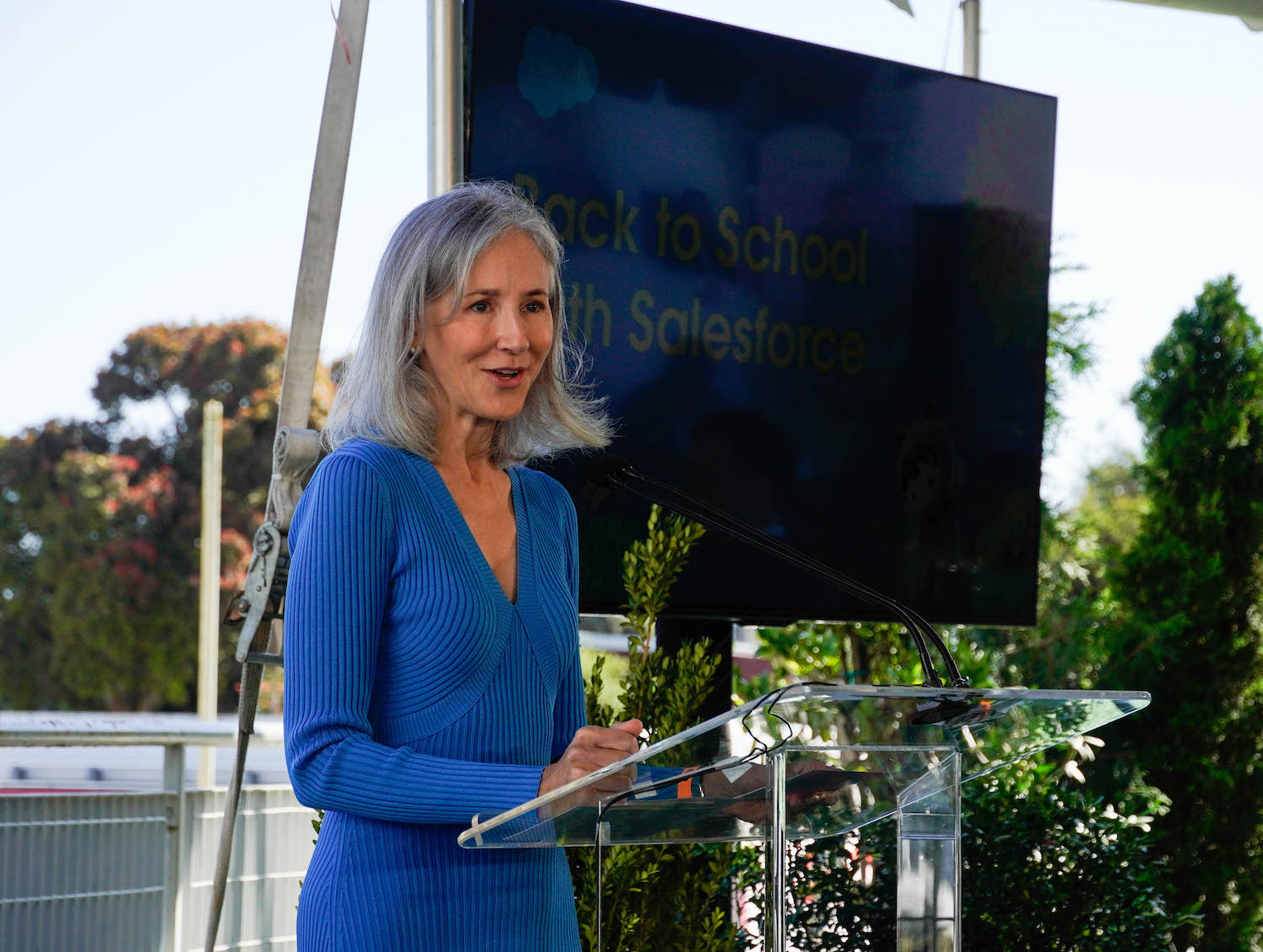 A core focus of the program is providing STEM courses for middle school, but the recipients are in the driver's seat when it comes to curriculum and policy decisions, Ferguson said. Funding use varies widely from advanced high-school courses and tutoring to preparing teachers to deliver relevant lessons. 
Students at George Washington High School in San Francisco, for example, can join a robotics program that competes with other schools around the country or an English class about science fiction and how technology like AI impacts the world. Students in Chicago can start earning college credits while in high school. And youth in the nonprofit workforce development programs can gain in-demand skills and career experience without needing to pursue a college degree. 
 
Accessing these opportunities early in life can spark interest, open new doors, and help young people envision different opportunities for themselves, Ferguson said. 
"We could probably all think back to when we were in middle school or high school and a teacher we had, or a course, or a thing you got to be a part of, was just like that little lightbulb," she said. "When you look back like, 'Wow, that really helped me go down a different path, or helped me think differently about myself and what I could see myself doing.' So, we're hoping that we're igniting a lot of those different moments for a really diverse set of students."
Student needs have changed a lot since Salesforce's education grant program started in San Francisco 11 years ago. One of the biggest challenges isn't the innovation itself but building enough trust that partners feel comfortable having honest conversations about what's working and what isn't, Ferguson said. The company wants to meet the areas of greatest need for each grant recipient, and that requires listening to them and evolving the program. 
"What we might have supported in the first year has grown and looks very different over time, as we adapt to the needs and realities of our partners and the challenges facing schools and young people," she said. "Some of the early work was just about helping schools get wired to have internet access in the classroom, and then an acknowledgment of . . . that alone is not sufficient."  
Today, at least 25,000 students (about 50 percent) in the San Francisco Unified School District have taken one or more computer science courses, according to Salesforce. And enrollment in computer science courses for Black, Latinx and Indigenous students has tripled.
The students taking these courses are a reflection of the diverse student body population, Ferguson said. Leveling the playing field that way is crucial to unlock opportunities for everyone, regardless of race or gender. 
Grants from Salesforce also allow the Oakland Unified School District to retain high-performing, diverse teachers, the company says. The district's middle schools are at their lowest staff vacancy rate in four years.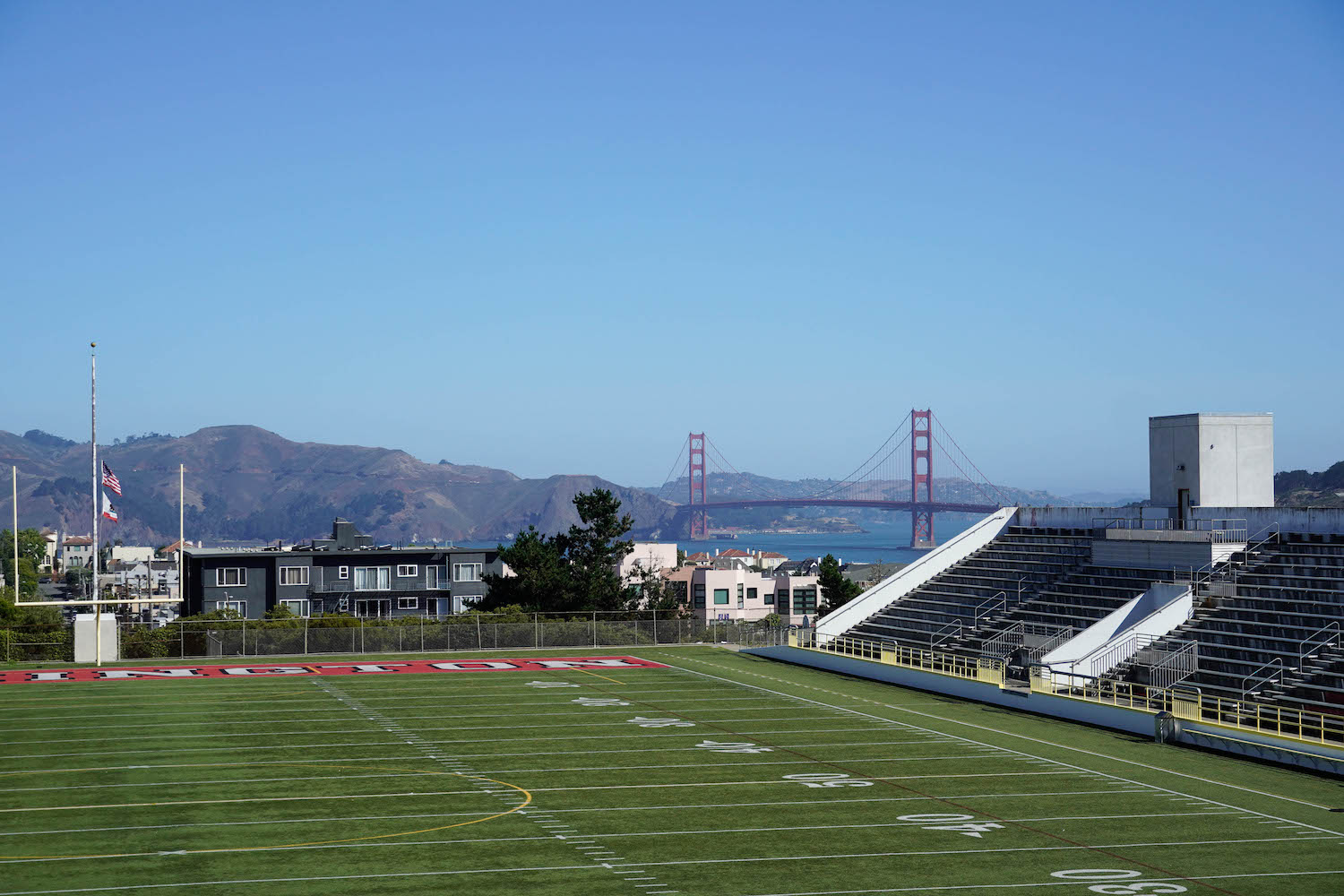 And George Washington High School was able to overcome its biggest challenge to implementing this type of program — funding, John Schlauraff, the school's principal, told TriplePundit. Programs like robotics, which requires a lot of funding and new materials every year, might not exist without these grants. 
One thing educators don't have to be concerned about is student interest. 
"Our students are very excited to be involved with this new wave of AI," Schlauraff said. "We have a lot of ways to expose students to AI and technology. I think they find their niche at the school." 
*Travel and accommodations in San Francisco were provided by Salesforce. Neither the author nor TriplePundit were required to write about the experience.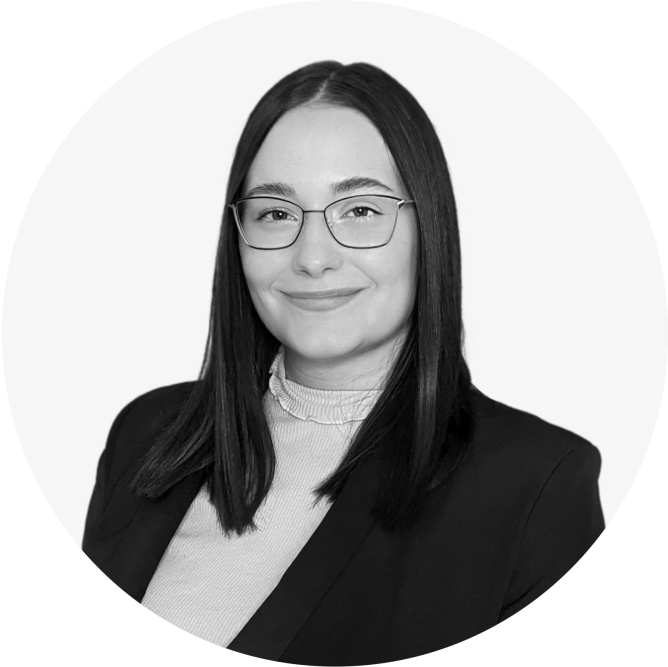 Taylor's work spans print, podcasts, photography and radio. She brings her passion for covering social and environmental issues through the lens of solutions journalism to her work as editorial assistant.