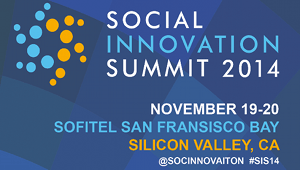 By Maura Dilley
Conferences that explore emerging thought leadership are an enjoyable place for a cultural ethnographer. We understand the world through common language, metaphors and reference points. When you're making something new, like social innovation, you invite an intellectual struggle to organize ideas in our collective mind. Results being the occasional euphoria of a new idea, as well as the confusion of speaking at crossed purposes. The spectrum of self-identified social innovators on parade at the Social Innovation Summit Silicon Valley 2014 gives up much for study.
Understanding the spectrum of self-identified social innovators
First, we have "social innovation natives" like
Kiva
,
Code for America
and
DonorsChoose.org
. In my mind, these organizations define social innovation; they are dedicated to designing products, services and, indeed, companies that fundamentally improve society by re-designing its operating systems. Social innovation is their modus operandi. And there "social innovation re-modelers" -- companies, foundations and philanthropists very large and somewhat small, drawn to identify with social innovation for a variety of curious reasons. Parsing these out was an entertaining exercise.
Sometimes the natives and the re-modelers work together well. Like Premal Shah, president of Kiva, sharing his trailblazing story developing the field of microloans with the organization. And Kiva's partner, HP, which identified its role in this cause as financial and resource support for Kiva's work.
But in the social innovation re-modelers category, there were a few too many folks misunderstanding social innovation as a marketing platform. The clear winner in this category is Genworth, the company that brought us Rob Lowe and a public service message on planning for the future, but failed to connect its work to the very robust opportunity for social innovation within elder care (read more here.) We also heard from consumer goods startup Hint Water,  whose claim to disruption is … disrupting ecosystem services by producing more single-use plastic bottles? And not to be forgotten, the disingenuous claim to social innovation by way of connecting under-privileged communities with knowledge from Comcast, leading lobbyist against net neutrality.
Why are corporations exploring social innovation?
Looking across the corporate and public companies turning up at the Social Innovation Summit, the motivation for their participation begs examination. There are a few common threads that run under the surface of what was on display. Social innovation often times disrupts heavy, incumbent systems, revealing new efficiencies that are beneficial for anyone, be it gaining energy and material efficiency as
Patagonia
has done or labor efficiencies like inventing a family flex-time policy.
Cutting edge of market opportunities are another reason. Take American Express' work extending financial services to under-banked customers. Financial services for middle and upper class abound, so American Express' market can only grow if they reach out to the unbanked. American Express, oddly absent at SIS but a good example nonetheless, needs to develop products and services that are appropriate for its under-banked clients. Amex even made a movie about its work! Capitalizing on the business opportunity to provide these products and services requires an exercise in social innovation.
How about strategic supply chain management: Corporations might share the awareness that economic instability leads to disruptions in the supply chain, which impacts operation costs. A desire to improve supply chain security might lead to community economic development investment in resource markets.
And last but not least: attracting and retaining creative talent with passion and drive. Hacking social problems is interesting, compelling work. It connects creative people to a meaningful and motivating causes that make them want to go to work. Here we've finally arrived at the question: What does the level and quality of engagement with social innovation say about a company?
Social Innovation ≠ Marketing
As corporations leverage the social innovation toolbox to through the lens of brand, it is not without consequence. This work is about building platforms and capacity that, once built, take on a life and determination of their own.
Social innovation is undersold when it's introduced as marketing and used interchangeably with corporate social responsibility (CSR). CSR can be good philanthropy, but don't look to a CSR department for transformational systems change -- the likes of which we need to truly tackle our world's wicked problems. Social innovation means permanent and irrevocable disruption. It is not marketing; it is a mindset and a practice of business for good, which grows to the limits of the limits of creativity and passion.
DonorsChoose.org, Kiva and Code for America have done tremendous work to achieve real impact, the relative scale and spirit of which is a gap to close for social innovation re-modelers. They may have bought a place on the stage, but the glory can only be earned.
Image courtesy of the Social Innovation Summit
We maintain a strong staff of reporters and guest authors in various locations with an interest in your subject matter. Get in touch with us if you would like to have one of our writers present at your event to cover it and write up big picture ideas that transpire or interview conference speakers and attendees on the air. If we don't have a contributor in your area we're happy to work with someone you know.