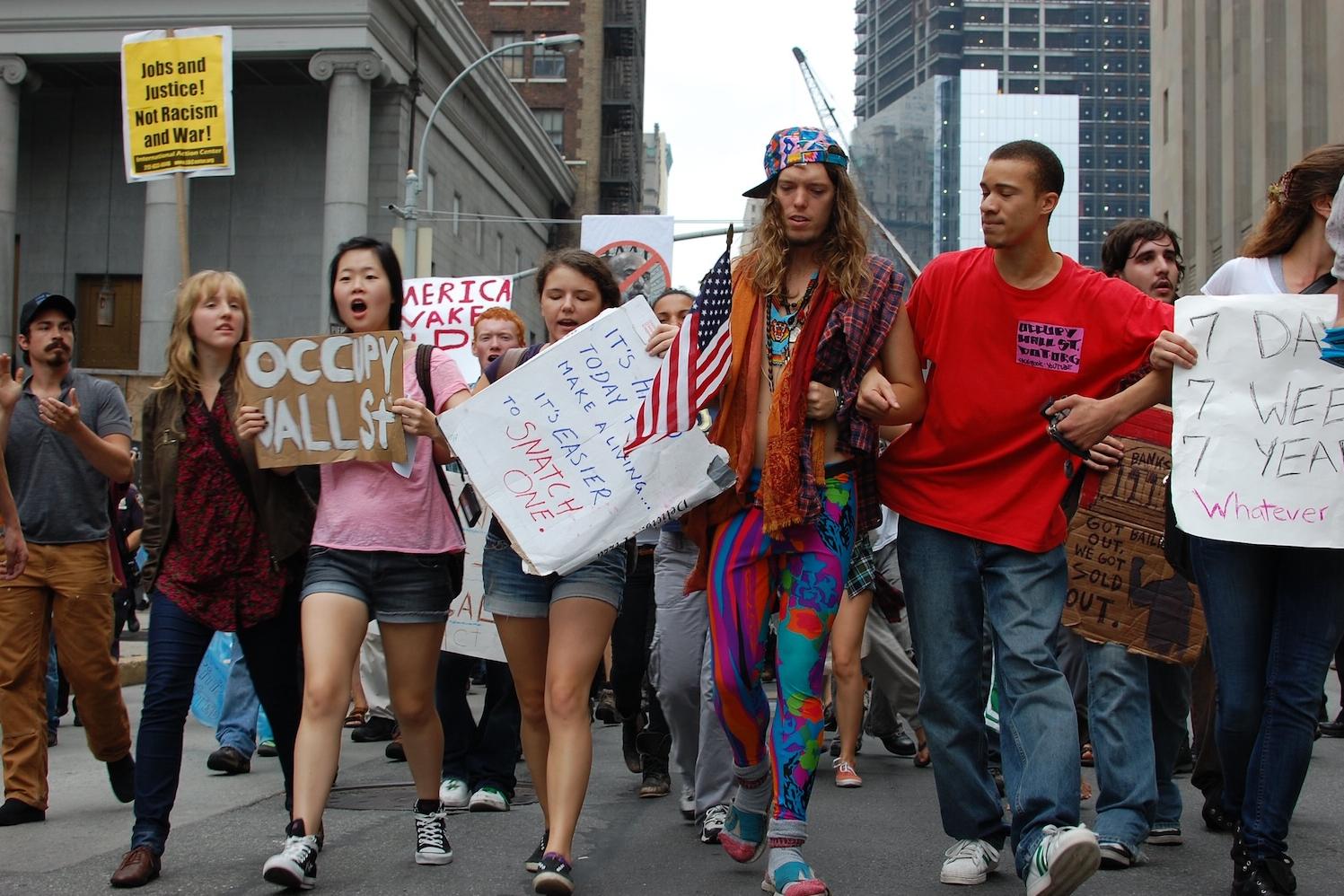 Occupy Wall Street protestors march through New York City's Financial District on September 24, 2011. (Image: Rocco P. Hill/Flickr)
TriplePundit relaunched this week with a focus on solutions journalism, but we've highlighted environmental, social and economic solutions on the site for years. As we look toward our next step, we couldn't help but think about some of the ideas and innovations touted as "the next big thing" in years past. Which ones took off, and which ones faded away? Read on for the details. 
Stakeholder capitalism 
"The social responsibility of business is to increase its profits." This headline of a 1970 New York Times article by Nobel Prize-winning economist Milton Friedman effectively defined capitalism for decades, with two generations of business leaders believing that earning the maximum possible profit for shareholders was their most sacred duty above all else.
R. Edward Freeman, a professor at the University of Virginia's Darden School of Business, developed the concept of stakeholder capitalism in the late 1970s to challenge Friedman's philosophy. But the concept really started to pick up steam in the mainstream business lexicon in the 2000s, and particularly after the 2008 financial crisis. 
"The challenges with this line of thinking, of course, is that single-minded focus on profit maximization is what led to the creation of bundled mortgage-backed securities that led to the housing bubble that virtually melted down the global economy (and realistically, to pretty much every speculative bubble in economic history)," TriplePundit contributor Scott Cooney noted in 2012. 
So, what happened? Stakeholder capitalism has moved firmly into the mainstream. In 2019, the Business Roundtable — which includes CEOs from more than 180 large public companies  — issued a statement revising the "purpose of a corporation" as a duty to serve all stakeholders. Ahead of its annual meeting in Davos in January 2020, the World Economic Forum updated the Davos Manifesto, the first of which was published in the 1970s, calling for a "better kind of capitalism" in which companies serve all stakeholders, not just shareholders.
As cause marketing pioneer Carol Cone of Carol Cone on Purpose, observed on TriplePundit: "Today, that Milton Friedman viewpoint is considered unsound and unwise for the modern corporation."
The sharing economy 
The 2010s was arguably the decade of the sharing economy. Silicon Valley startup founders started talking about a future where everyone shared their cars, their spare rooms and their time — reducing wasted resources and allowing everyday people to earn and save money.
TriplePundit ran editorial series and hosted events aiming to assess the future of the sharing economy. Particularly as companies like Airbnb, Uber and WeWork started to gobble up market share, some started to wonder if they were really living up to their promised vision. Or, as TriplePundit's former social media director Marissa Rosen asked in 2014: "Is 'sharing' really the right word to describe these new companies?"
So, what happened? The sharing economy changed the course of commerce as we know it, but likely not in the way early proponents hoped. Ride-sharing companies like Uber and Lyft have taken over city streets. Travelers are just as likely to use house-sharing companies like Airbnb and Vrbo as they are hotels. And workers around the world use apps like TaskRabbit and Fiverr for flexible ways to make money.
But the sharing economy was once envisioned as a utopia where everyone owned less, earned more, and effectively transferred economic power from the hands of the few into the hands of the many. And in that sense, it hasn't exactly delivered. Now more appropriately called the "gig economy," this mode transformed the way goods and services change hands, but it's still mostly corporate executives and wealthy property owners — rather than workers and the general public — who benefit most. 
"The promised benefits for workers and consumers have failed to materialize in many cases, while tech investors have made a killing," technology journalist Joan Westenberg observed this year. "Behind the feel-good sheen of 'sharing,' the sharing economy looks more and more like a circus trick to enrich Silicon Valley."
The one-for-one model
Of course we all know about buy-one, get-one sales and how they trick us into buying more stuff. But as you may or may not remember, an alternative dubbed "one-for-one" (or buy-one, give-one) was having a major moment in the 2010s.
Early pioneers like Toms shoes, Bombas socks and Warby Parker glasses pledged to give a product to someone in need for every product sold — a pair of shoes for a child in need, a pair of socks for someone experiencing homelessness and so on. Customers loved it. Toms rose to cult status on the back of the one-for-one concept, and companies like Bombas and Warby Parker donated thousands of items in their first years in business. 
So, what happened? Potential problems with the one-for-one model emerged early on. TriplePundit contributor Gina-Marie Cheeseman published a story under the headline "The Problem with the Toms Shoes Charity Model" back in 2012. In particular, since Toms and many one-for-one companies donated items in developing markets abroad, some questioned whether their goodwill was dampening the growth of those local consumer economies. Some even likened one-for-one to colonialism, arguing it forced solutions on communities without asking them what they really need. 
It took some time, but one-for-one businesses have since adapted to this feedback. Toms ditched the one-for-one model altogether and now invests a third of the profits from each purchase into grassroots nonprofit organizations around the world. Some companies like Bombas still use one-for-one, but the donations are targeted toward groups like overnight shelters, street outreach programs, and transitional housing facilities to ensure they're needed and can be put to good use.  
Strategic degrowth
The financial crisis of 2008 left many questioning how the economy functions and who really benefits from it. Occupy Wall Street and the living wage movement are just two examples of this collective frustration come to life. As more information about climate change and resource degradation came into view, many also started to wonder if the planet could really sustain the growth companies pursue every quarter.   
"Infinite growth is a fantasy," Joel Solomon of the impacting investing firm Renewal Funds wrote in his book, "The Clean Money Revolution," which TriplePundit excerpted in 2017. "The Earth can no longer support our species in blindly expanding, dominating and accumulating." Solomon was among the early voices exploring the concept of "degrowth" and rebalancing the world's priorities so as to produce and consume only what the planet can sustain. 
So, what happened? Clearly degrowth hasn't gone very far, but people seeking a better form of capitalism still talk about it often. "An innocent 2 or 3 percent per year, it's an enormous amount of growth — cumulative growth, compound growth — over time. I don't see it being compatible with the physical reality of the planet," Giorgos Kallis, a top degrowth scholar based at the Universitat Autònoma de Barcelona, told CNN Business earlier this year. Felipe Milanez, a degrowth scholar from Brazil, told the outlet that the endless pursuit of growth is "extremely violent and racist, and it's just been reproducing local forms of colonialism." Meanwhile, Jennifer Wilkins, a researcher on emerging business sustainability issues, told Reuters that degrowth is about "true sustainability."
Non-financial reporting 
The idea that companies should publicly report their impacts on people and the environment was downright revolutionary in the 2010s.  The European Union threw down the gauntlet in 2015 when it mandated some public companies include their environmental, social and governance (ESG) impacts in their annual financial reports.
The voluntary Integrated Reporting Framework, which set guidelines for reporting ESG alongside financial data, had been developed two years earlier, but forcing around 7,000 companies to do it was unheard of. At the time, TriplePundit contributor Michael Kourabas called it "the most significant corporate social responsibility measure, anywhere, to date." 
So, what happened? In short, a lot: 96 percent of the world's largest companies reported on their sustainability or ESG data last year. Smaller and private companies are less likely to report, and most governments still do not require it. Beyond the EU, the U.K., Malaysia and the Philippines are among those that mandate ESG disclosure. The U.S. Securities and Exchange Commission (SEC) is weighing mandates for climate reporting in particular, while a new climate reporting mandate in California is expected to force the issue. 
Even on a voluntary basis, the prevalence of reporting increased awareness and compelled businesses to clean up their act. But it also created a brand new problem. Companies use a ton of frameworks to report their impacts and progress, including the Global Reporting Initiative (GRI) standards, the Sustainability Accounting Standards Board (SASB) standards, and the Task Force on Climate-Related Financial Disclosures (TCFD) recommendations.
As you'd imagine, this can get confusing, and it makes it harder for stakeholders like investors to compare one company with another. Launched in 2021, the International Sustainability Standards Board aims to bring uniformity to the varied frameworks, based on the existing ones companies already use.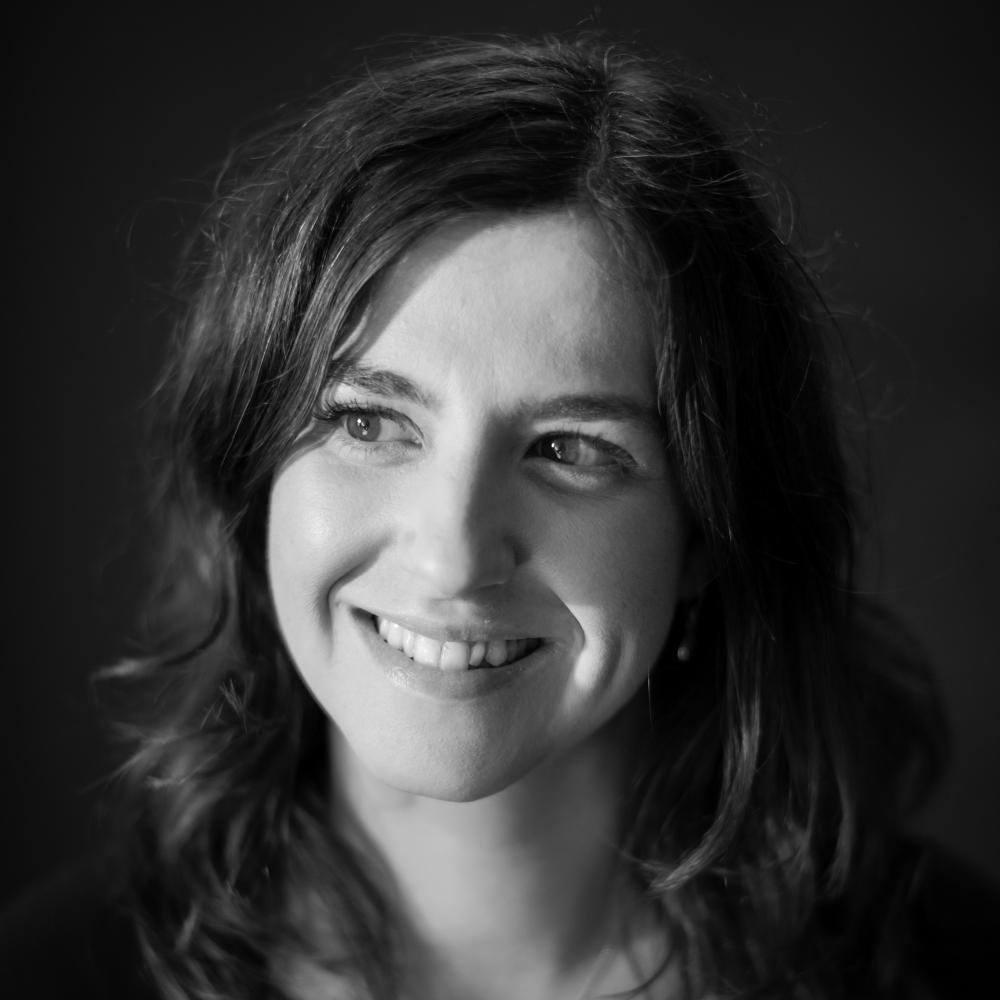 Mary has reported on sustainability and social impact for over a decade and now serves as managing editor of TriplePundit. She is also the general manager of TriplePundit's Brand Studio, which has worked with dozens of brands and organizations on sustainability storytelling.