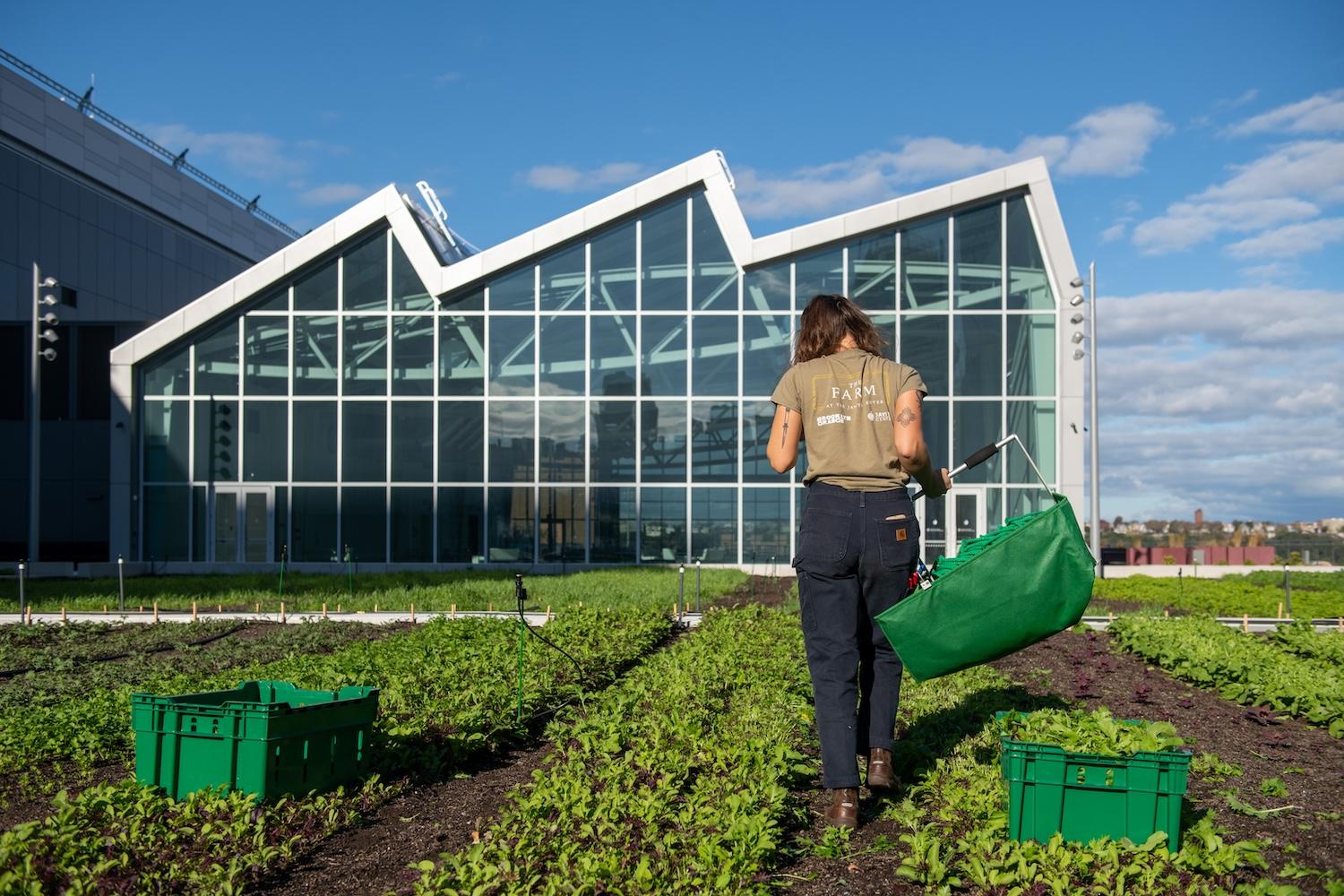 The roof of the Javits Center includes a one-acre rooftop farm and 6.75-acre green roof that includes 11 species of succulent plants that help with storm water retention and reducing energy consumption.
Leaders at the Javits Center in New York City, one of the nation's busiest convention centers, learned about the need for climate resiliency the hard way. In 2012, Hurricane Sandy deposited up to a foot of contaminated water from the Hudson River into the 800,000-square-foot venue. Over a decade later, climate-related disasters have become all too common. That makes the Javits Center's transformation from a flood-damaged behemoth to a model of sustainability for the net-zero built environment a story worth paying attention to.
When leaders at the Javits Center surveyed the post-Sandy destruction, they could have chosen a standard building repair to get it running again as soon as possible. Instead, they saw it as an opportunity to not only secure the building against future climate-related disasters, but also demonstrate that even a large building could set a vision for net-zero. 
A green rooftop, farm, birds and buzzing bees 
The transformation was dramatic. Today, visitors can stroll around the Center's one-acre rooftop farm that produces up to 40,000 pounds of produce a year, which helps stock its kitchens for guest and employee meals. A green roof spans another 6.75 acres and includes 11 different species of succulent plants that help with storm water retention and reducing energy consumption. 
Abundant wildlife is another feature of the green roof. It provides habitat for 56 bird species and five bat species, thousands of insects and arthropods, and nine beehives used to make more than 100 pounds of honey per year for the Javits Center's kitchens and as gifts for special guests. 
Some 3,000 solar panels installed on the roof will go online in the next few months, and there's a newly installed wind turbine for running a pilot. 
With all of the changes, the 1.2 million square foot expansion for the part of the convention center impacted by Sandy has earned LEED Gold Certification from the U.S. Green Building Council; the main building has earned LEED Silver.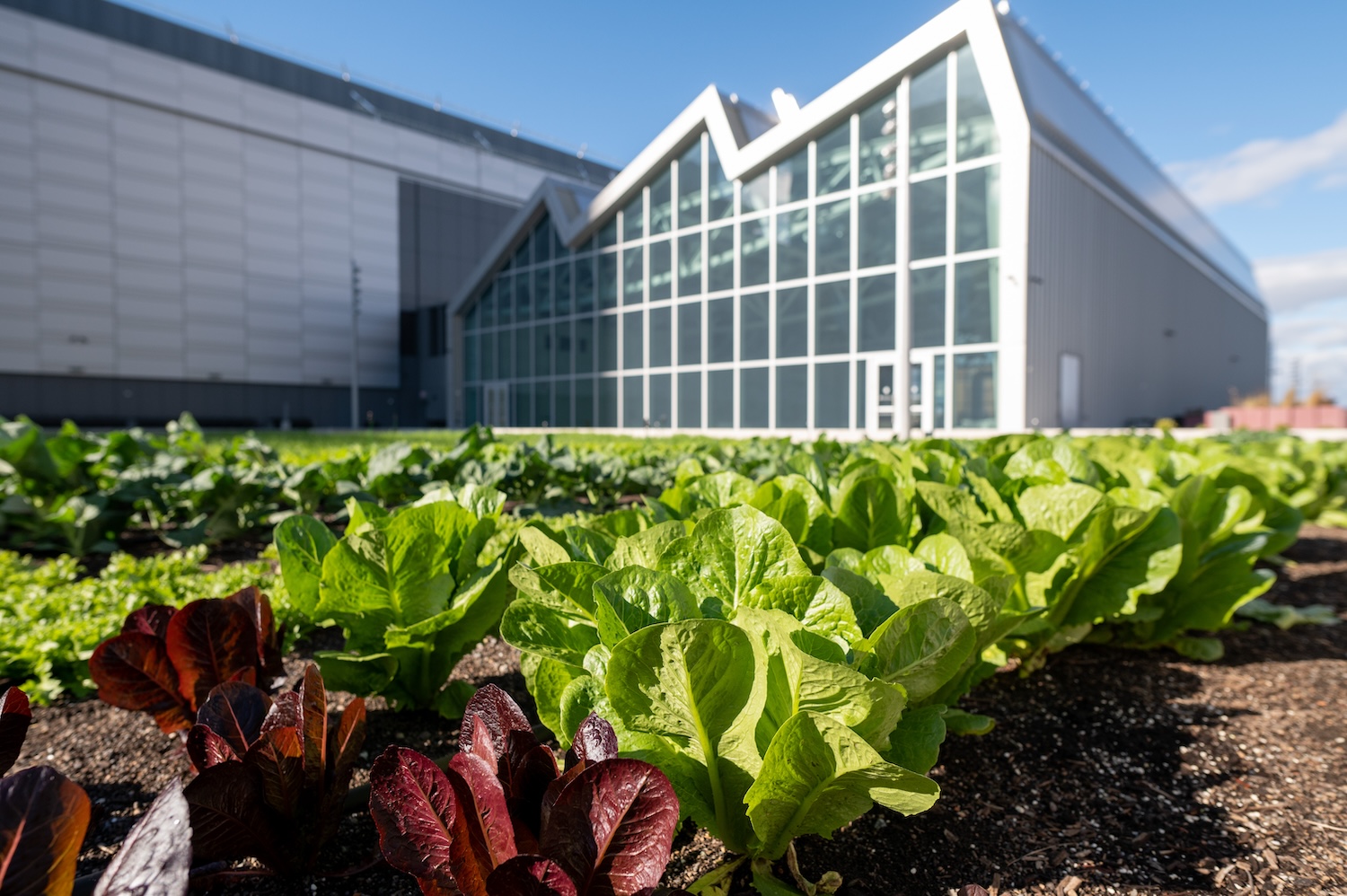 Securing the Javits Center for future generations
The results of the Javits Center's sustainability efforts were on display during New York City Climate Week last month. Climate Week NYC partnered with Javits for the third time to create the Nest Climate Campus and put on the Nest Summit, a climate-action platform that hosted dozens of events for organizations and was free to the public. 
"After Hurricane Sandy, we wanted to secure ourselves from future threats," Yashi Dadhich, director of energy and sustainability for the Javits Center, said during a panel discussion at the Nest Summit. "But we also wanted to make sure we are securing our future for our future generations and looking at every aspect of the building in how we can reduce our impact, from the space we occupy to the electronics we use, to how we reduce our waste and energy consumption."
The Javits Center did not have a sustainability plan at the time of Hurricane Sandy, but sustainability is now the cornerstone of how managers operate the massive building, Dadhich said. "This also helps us to protect our clients and make sure they are provided with the most sustainable initiatives to support their events," he said. "We are not there yet. It's a journey of continuous improvement, but we've made a lot of progress."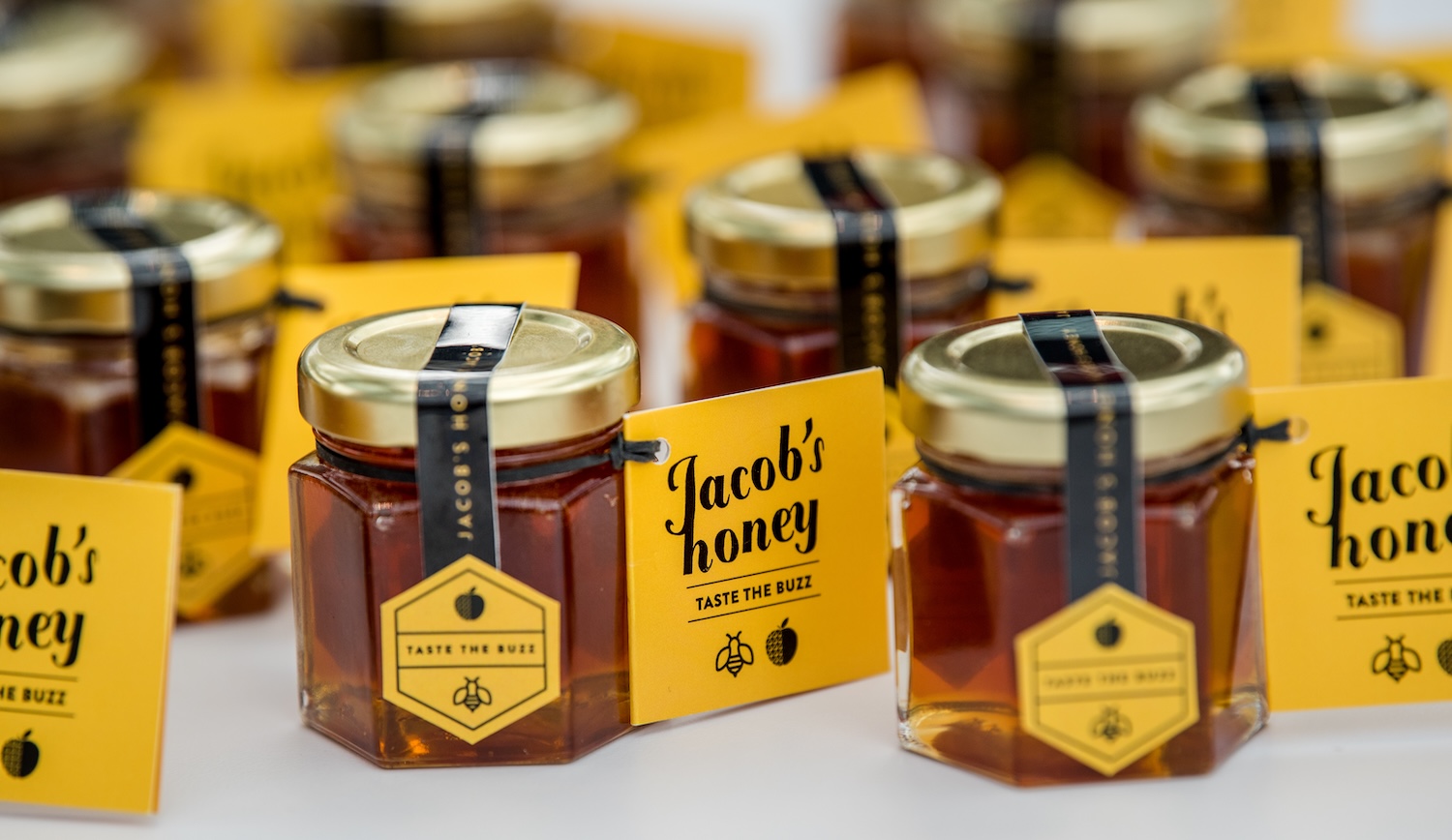 Setting a vision for net-zero
The Javits Center is a signatory to the Net-Zero Carbon Events Pledge, which rallies the events industry to halve carbon emissions by 2030 and reach net-zero by 2050. The pledge launched two years ago at the U.N. COP26 climate talks in Glasgow, Scotland, and all signatories are expected to provide preliminary data on their progress by the end of this year.
For its report, the Javits Center is working with Drexel University in Philadelphia to create a climate action plan. That includes measuring and reducing the full scope of greenhouse gas emissions associated with the venue and the goods and services it uses.
Setting 2012 as the baseline, the Javits Center will use science-based targets to set its net-zero goals and ensure it's making progress, Dadhich said. The planned solar energy deployment will play a big role, delivering 1.6 megawatt-hours of power to the facility once it's switched on, making it the largest rooftop solar farm in Manhattan, according to the Javits Center. Along with a battery energy storage system also in the works, the Javits Center will be able to source 2 gigawatt-hours of onsite clean energy per year.
"We are trying many different approaches to being able to go off the grid," Dadhich said. 
Even without the new solar farm, operators have reduced the Javits Center's energy consumption by 26 percent since 2014 through the green roof and the installation of energy-efficient equipment. 
Part of those efficiency gains can be traced back to the Javits Center's collaboration with Cisco, its information technology partner, which helped the convention center reduce from three data centers to one and millions of cables to a few hundreds of miles of cable. 
"Our goal is to help event hosts like Javits get to net-zero," Denise Lee, vice president at Cisco's Engineering Sustainability Office, said at the Nest Summit. "All of these different use cases open up when IT and the built environment converge, using sensors, cameras, and open roaming and Wifi access."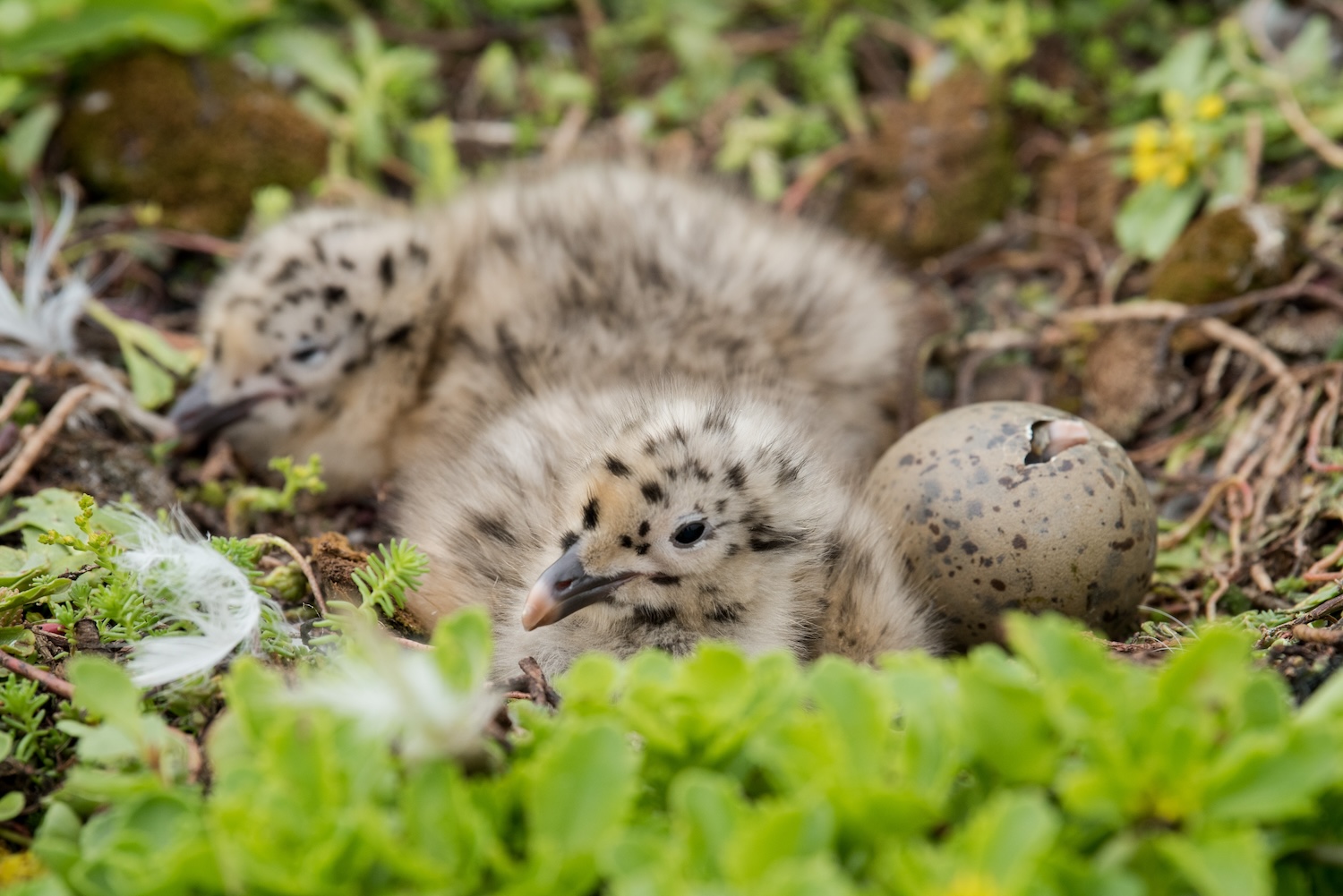 A power-sharing arrangement with Times Square  
While the planned solar and energy storage project will allow the Javits Center to source more renewable energy, the building can already go off the grid as needed in times of crisis or high demand. Thanks to a 13-megawatt microgrid that includes a smart energy management system and three diesel generators, the convention center can be off the grid for about six days at full capacity and up to a month at average capacity. In the event of a climate emergency, it could serve as an emergency response center for thousands of New Yorkers.
These measures also mean the Javits Center has demand-response capacity. Since the center shares the same power grid as Time Square at times of heavy load, the New York Power Authority may request operators take the building off the grid to reduce demand. Over the summer, the Javits Center met its commitment to provide approximately 7,000 kilowatt-hours of energy to the grid to help with peak load.
Another way the Javits Center benefits the local community is through its truck marshaling facility, where some 200 trucks that arrive to deliver material to set up events are housed, avoiding unnecessary congestion and traffic and the pollution of idling trucks on the city streets.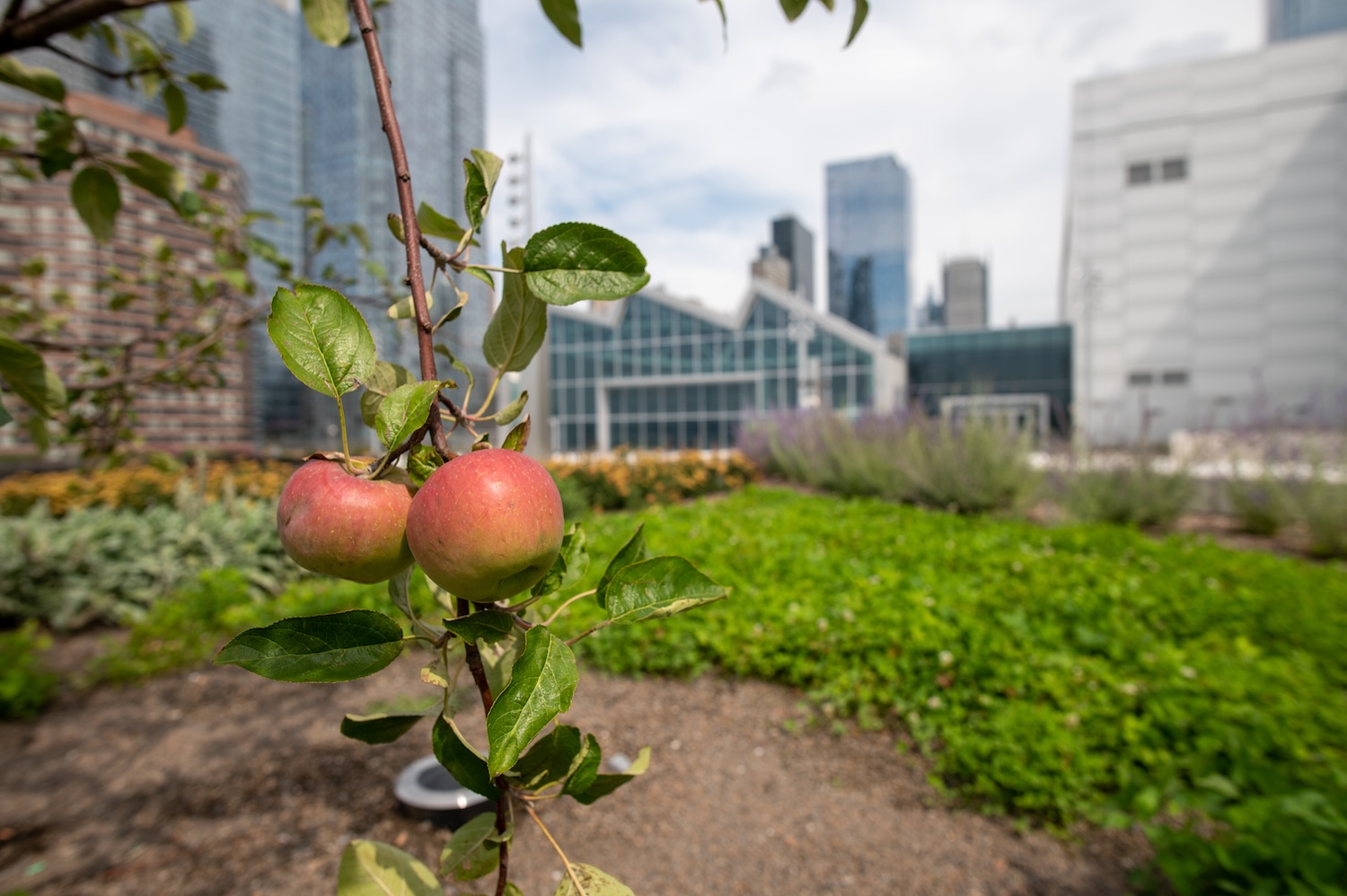 Capturing waste at the source
A mindset of avoiding waste is also part of the Javits Center's transformation. For the building's expansion, 75 percent of the construction and demolition that was razed was diverted from landfill by either reusing it or recycling it, and sustainably harvested wood was used for new construction, Dadhich said.
The center aims to divert 50 percent of the waste it creates from landfills by the end of this year. The Javits Cares program takes furniture and other materials that event customers don't want and donates it to the local community, and it also donates unused food items from events. To date in 2023, it has made more than 20 tons of non-food donations and 60 tons of food donations.
Facing the challenges together
While the Javits Center has come a long way, Dadhich acknowledges that a number of challenges still stand in the way of net-zero. She is a firm believer that most can be solved by coming together with others. 
For example, as it pursues science-based targets, the center is challenged to measure and reduce Scope 3 emissions, those created from upstream and downstream activities outside its direct control. But it's far from alone. "All industries are currently challenged with Scope 3," Dadhich said. 
"It is going to back to NIMBY, not in my backyard," she told us. "It gives me the same frustration. Everyone wants to stay away from it, saying: 'These are not my direct emissions.' But these are the biggest problem areas for us as a society, and if we all keep saying that 'these are not my direct emissions, I don't want to dive into it,' we will never be able to reach that goal of net-zero as a society." 
Dadhich and her team aim to engage with all of the center's supply chain partners and stakeholders, with an eye toward making it easier for them to reduce their emissions, which helps everyone. One of the ways they do this is by working with event customers to help them meet their own waste diversion goals, if they have them, with signage and waste bins designed to encourage proper disposal and recycling.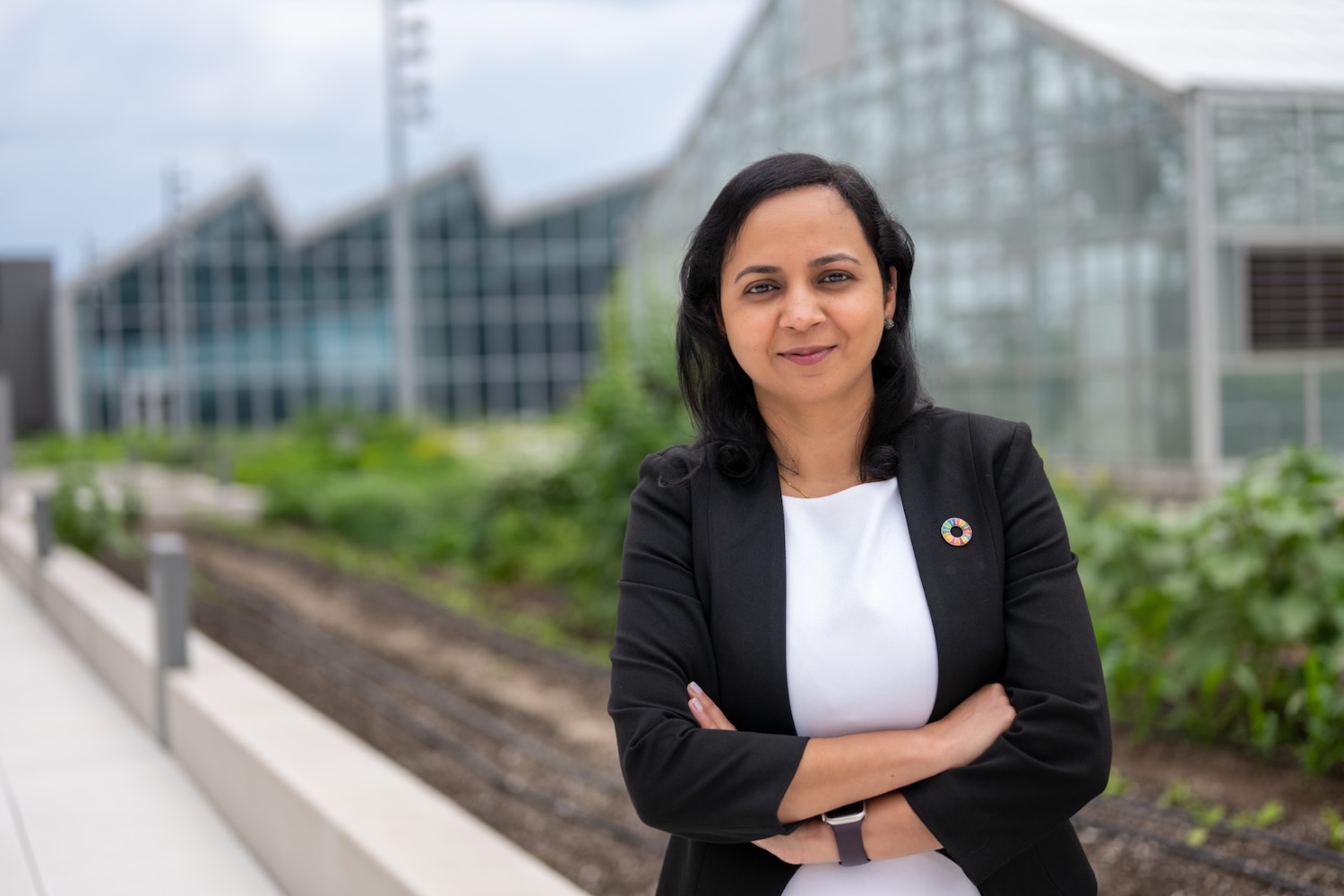 Building a new vision for a carbon-intensive sector
The buildings sector accounts for nearly 40 percent of energy and process-related carbon dioxide emissions. More buildings will have to take the Javits Center's approach if the sector is going to meaningfully contribute to the fight against climate change.
"When you think about decarbonizing a very complex, challenging sector like the built environment, not to mention a facility of this size, it is no small thing to get to net-zero," said William Sisson, executive director for the World Business Council for Sustainable Development North America, at the Climate Week event. "We have a hurricane to thank for the mindset shift to show what the Javits Center could be, but it shouldn't take a climate disaster for building owners to do the right thing."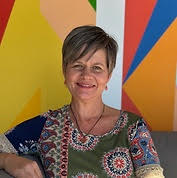 Based in Florida, Amy has covered sustainability for over 25 years, including for TriplePundit, Reuters Sustainable Business and Ethical Corporation Magazine. She also writes sustainability reports and thought leadership for companies. She is the ghostwriter for Sustainability Leadership: A Swedish Approach to Transforming Your Company, Industry and the World. Connect with Amy on LinkedIn and her Substack newsletter focused on gray divorce, caregiving and other cultural topics.