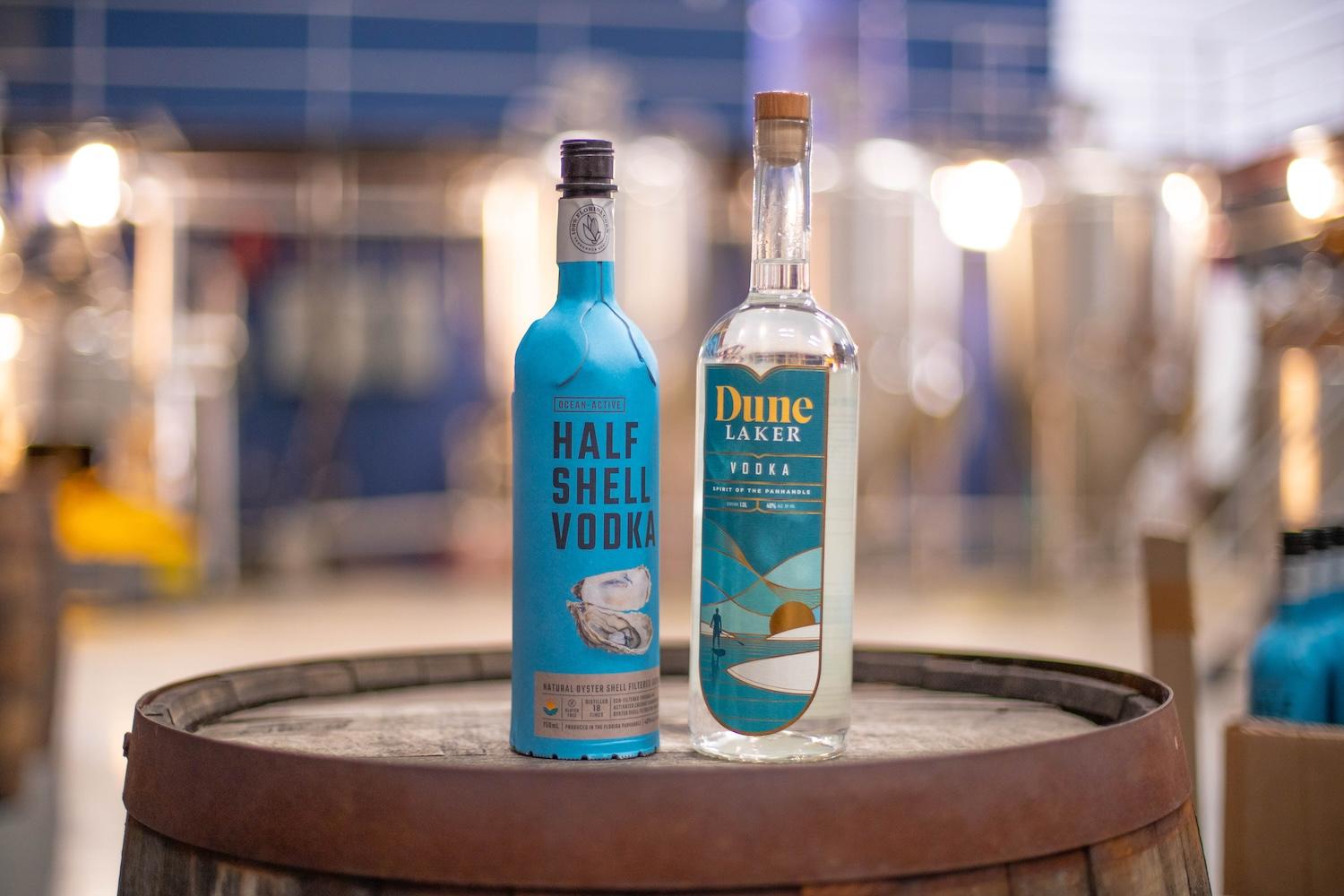 Distillery 98's Half Shell vodka (left) is packaged in 94 percent paper bottles from Frugalpac, and its Dune Laker vodka (right) is packaged in a standard glass bottle. (Image courtesy of Distillery 98)
We know that plastic waste is a colossal global problem. Landfills are overflowing, and plastic waste is causing severe degradation of the world's oceans and marine ecosystem. Yet we continue to produce, buy and use a record amount of single-use plastic. Around 36 percent of all plastic produced worldwide is used for packaging, much of it for single-use beverage and food containers.  
To address this, some beverage brands are considering paper bottles as an alternative to plastic. But are paper bottles really a better solution than other alternatives?
The state of beverage packaging: Plastic, aluminum or glass?
More than a million bottles of water are sold around the world every minute, and the bottled water sector continues to boom. About 85 percent of all plastic bottles sold end up in a landfill or leak into the environment. And, of course, bottled water is only the tip of the iceberg when it comes to global plastic waste. 
But addressing the problem isn't always as simple as "stop drinking bottled water." In both developed and developing countries, people often turn to bottled water because they see it as safer than the water coming from their taps — and in many cases, they're right. 
And while consumers claim to be changing their behavior to integrate sustainable and environmental considerations into their purchases when they can, 1 in 4 U.S. adults don't know what makes a food or beverage product sustainable, according to a 2022 survey.
For beverage packaging, plastic is often replaced, by default, by glass. However, glass takes more resources and energy to produce. Making glass involves mining raw materials such as silica sand and dolomite that release pollution which, when inhaled, can cause the lung condition silicosis among workers in the industry. High temperatures are needed to melt these materials, a process powered by fossil fuels, and glass production also releases carbon dioxide. Further, glass weighs 20 times more than plastic, which means vehicles transporting glass bottles consume more fossil fuels to deliver the same amount of liquid as what comes in plastic.
As the sustainability challenges tied to glass become better understood, some have also considered aluminum to replace plastic in beverage packaging. Aluminum production consumes less energy and resources; cans are lighter than glass and aren't made from fossil fuels like plastic. But production still requires the mining of bauxite ore and refining and smelting to create aluminum, which can be energy intensive. 
A few different studies have compared the circularity of plastic, aluminum and glass. All of them found that the recycling efficiency of aluminum is 80 to 90 percent, followed by glass which is between 34 and 59 percent. Plastic recycling rates vary between 13 and 40 percent. 
Since each of these materials come with their own set of trade-offs, some beverage companies are looking toward paper fiber as an alternative, a packaging material used widely across other sectors.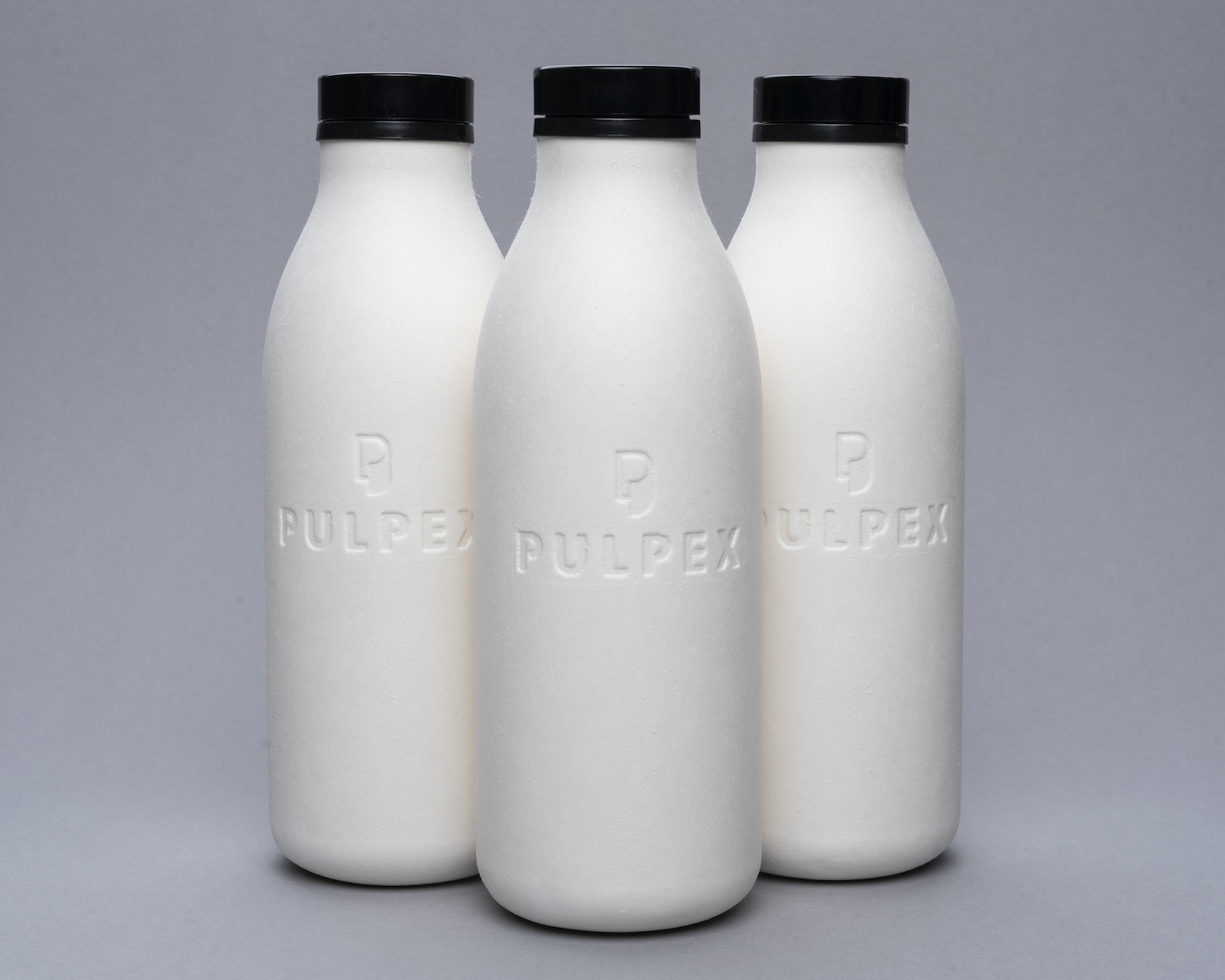 The reign of paper bottles might be on the horizon
"Glass, plastic and metal are all brilliant materials when deployed in the right regional environment, where the supporting infrastructure enables collection and recovery," said Scott Winston, CEO at Pulpex, a renewable packaging technology company that has introduced a renewable fiber bottle made from sustainably-sourced wood. "However, we need to resist the temptation to introduce new, hybrid materials or technical solutions where circular packaging is not possible and the solution must go to a landfill or, at worst, it risks polluting an existing material recovery route."
Established by the global spirits giant Diageo and Pilot Lite Venture Management, Pulpex recently secured $24.4 million in funding to deliver a commercially-scalable production line for its fiber bottles. Apart from Diageo, the parent company of brands like Johnnie Walker, Pulpex bottles are also being used by PepsiCo.
"Pulpex's patented packaging solution uses the natural credentials of wood fibers and was developed to be sustainable as well as scalable," Winston said. "[The bottles] technically perform as required to deliver product shelf life and filling infrastructure compatibility and, at their end-of-life, are curbside collected, sorted as paper and go on to become other fiber products."
Pulpex aims to produce more than 2 billion paper bottles per year by 2028, in partnership with global brands and the fiber solutions company CMPC. "Pulpex's commercial-scale production line in Cambridgeshire (U.K.) will be online by early 2024," Winston said. 
Florida-based micro-distillery Distillery 98 opted for the paper-based Frugalpac bottle instead of glass for its locally-sourced Half Shell Vodka when supply chain disruptions tied to COVID-19 made glass bottles inaccessible.
"It was hard to get bottles we liked that were manufactured in the way we wanted them," said Distillery 98 co-owner and CEO Harrison Holditch. "When we came across the Frugalpac bottle, we saw a solution to our problem. We began to educate ourselves on the carbon footprint it takes to create a glass bottle overseas and also what it takes to recycle a glass bottle, which has a larger footprint than manufacturing one. The more we went down the road with this bottle, the more we found it to be a fit for us and what we believed was possible for our distillery."
Paper Bottle Co (PaBoCo), a Danish startup that makes another climate-friendly alternative container for beverages, also uses paper from sustainably-sourced wood. 
"Our vision is to create a fully bio-based paper bottle to challenge the notion of what packaging can be," said Michael Michelsen, commercial director at PaBoCo. "We are addressing this in innovation increments, launching newer generations of bottles and putting them into use with products and consumers even while we develop them. The way forward is by introducing paper bottles — as light as possible, with minimum emissions — and building the technology necessary to supply this solution."
PaBoCo is already commercially viable and has been working with beverage companies including Coca-Cola, Carlsberg and Absolut. Absolut Vodka is to become the first global spirits brand to sell single-mold, paper-based bottles commercially in the U.K. as part of its journey to create a fully bio-based bottle.
PaBoCo says its paper bottle can reduce emissions by up to 32 percent compared to other materials used in the industry today. Its first-generation, single-mold bottles are made from 57 percent paper with what is described as "an integrated barrier of recyclable plastic." 
The plastic component, however, is still about 43 percent of the product's weight and is made from polyethylene naphthalate (PEN), a plastic resin used in many industrial applications like food packaging, electronics and tires.
"Our next step to move the markets forward will be the introduction of a next-generation bottle consisting of minimum 85 percent paper," Michelsen said. "Now that we have demonstrated paper bottles are here to stay, I believe we will see more variants of paper bottles appear, which also means a greater degree of adoption of such bottles across the industry."
So, where does the paper come from?
The Frugalpac bottle is made from recycled paper, and the fiber sourced for both the PaBoCo and Pulpex bottles is certified by the Forest Stewardship Council (FSC), ensuring that the wood used comes from responsibly-managed forests.
"Responsibly-sourced wood can play a significant role in sustainable long-term solutions for beverage packaging," said Monika Patel, director of communications and marketing for the FSC in Canada. "When sourced from well-managed forests, wood can be a renewable and low-impact material option. It provides an opportunity to reduce reliance on non-renewable resources and can offer numerous environmental and social benefits. If wood pulp is not harvested in a sustainable manner, it can lead to deforestation, habitat destruction, and negative impacts on local communities and biodiversity."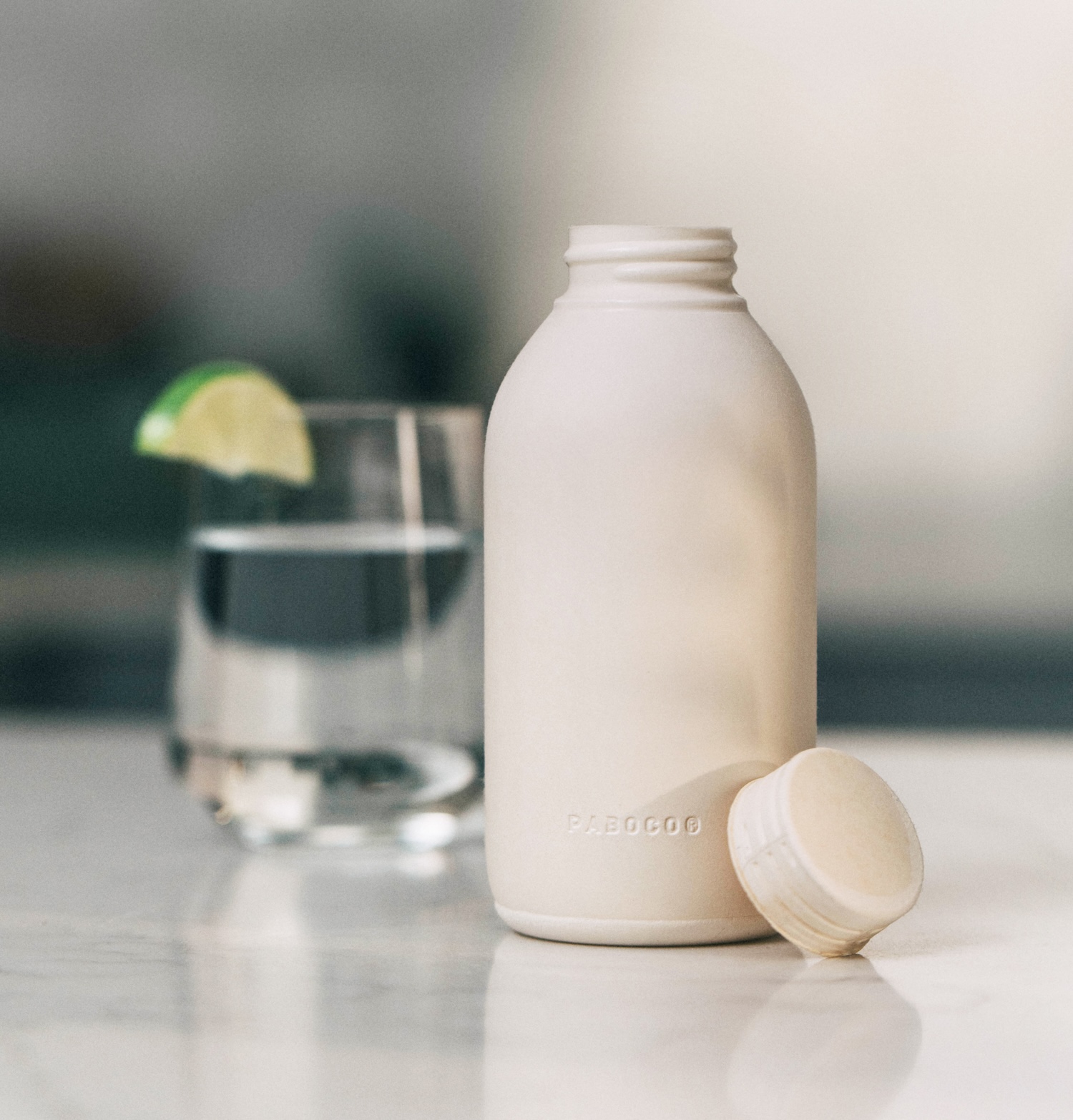 Is paper really the solution?
Criticism of the paper bottle is scarce but not unfound, and it mostly revolves around the question of how practical paper bottles are for consumer recycling. 
For instance, to recycle the 94 percent paper Frugalpac bottle, the user has to separate a plastic pouch from the paper bottle and place the items in their respective recycling bins. For PaBoCo, the recycling process is not clear, considering the bottle is not 100 percent paper yet. 
Pulpex fiber bottles, on the other hand, are designed to be recycled just like paper. They do not contain a plastic liner that needs to be separated and can degrade in the natural environment in the worst-case event they end up as litter.
A lifecycle assessment from another sector sheds further light on the trade-offs at play. 
Product sustainability consulting and software solutions company Trayak recently conducted a lifecycle assessment study with Dr. Bronner's, a U.S. producer of organic personal care products, to evaluate an alternative for the recycled plastic bottles the company uses for its signature soaps. Although not in the beverage industry, consumer goods companies like Dr. Bronner's share the same sustainable packaging dilemma. 
The study assessed the impact of four different packaging materials: the current bottle made with post-consumer recycled plastic, a fully paper bottle, a bottle made from post-consumer recycled aluminum, and a paper gable-top bottle carton that includes a plastic liner.
All four options came with their own benefits and drawbacks. And while Dr. Bronner's plans to pursue reusable packaging in the long term, in the short term it opted for the gable-top carton for larger refill sizes of its soaps. Although the carton is not recyclable due to the plastic liner, its lifecycle environmental impact was found to be smaller than the other containers, even in a scenario where the carton is landfilled and all the other containers are recycled. 
So, should brands focus on using recycled materials, prioritizing the recyclability of the package or accounting for full lifecycle impact? Is it preferable to be entirely plastic-free or to use a lighter package? There is much yet up for debate and evaluation in the long run. 
The search for the best bottle continues
While paper bottles may provide a solution for the beverage industry, it is still a new concept and there is no quick or one-size-fits-all solution. Many variables need to be considered in evaluating the best solution per product type.
"There is no easy shift to adopting a renewable packaging solution," Winston concluded. "What is needed is strategic vision on how to resolve these challenges and how to use available resources to support the correct outcomes rather than risk making the wrong decisions."
Michelsen agreed. "The companies that want to transition quickly need to adopt a continuous innovation approach and need to cope with the challenge of being the first market entrant with their new packaging solutions," he said. "Of course, they also need to work closely with companies to develop a feasible technical packaging solution, a task that takes a considerable amount of time, knowhow and dedication."
Editor's Note: This story was updated on Friday, November 3. An earlier version of this story stated that Pulpex bottles are 100 percent paper. The bottles are around 98 percent fiber-based but also contain a water-based, spray-on barrier coating. The bottles are still biodegradable and recyclable as paper, according to the company.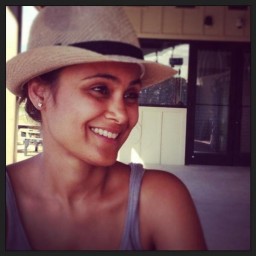 Abha Malpani Naismith is a writer and communications professional who works towards helping businesses grow in Dubai. She is a strong believer in the triple bottom line and keen to make a difference. She is also a new mum, trying to work out a balance between thriving at work and being a mum. In her endeavor to do that, she founded the Working Mums Club, a newsletter for mums who want to build better careers and be better mums.